Sneaky Mommy Muffins are SUCH a genius way to cram a few extra veggies into your kids snacks … and they won't have a clue!
Ok, let's be real here.  Getting kids (and some adults) to eat veggies is like pulling teeth some days.  And since I'm not above trickery my friends, I figured I would share these super awesome fruit and veggie muffins with you to make for your own clan for a healthy breakfast, lunchbox addition or a healthy portable snack for you to throw into your purse on your way out the door!
I'd love to say that I threw these muffins together in a pinch over morning coffee between brushing teeth and tying shoe laces (both chaotic events for the record), but that would be a big fat lie.  No, I made literally 220 muffins (no exaggeration) before I got these right.  If you followed me on Instagram stories you saw the evidence. Piles of muffins EVERYWHERE.  Because I just couldn't quite get them perfect.  The first batch was too dry, the second was also too dry, then I overcompensated and made them way too moist (still edible, but basically soft pucks) … eventually I created this muffin that I feel is pretty close to perfection.  If I weren't a dietitian you may have caught me feeding muffins to my family for three square meals a day!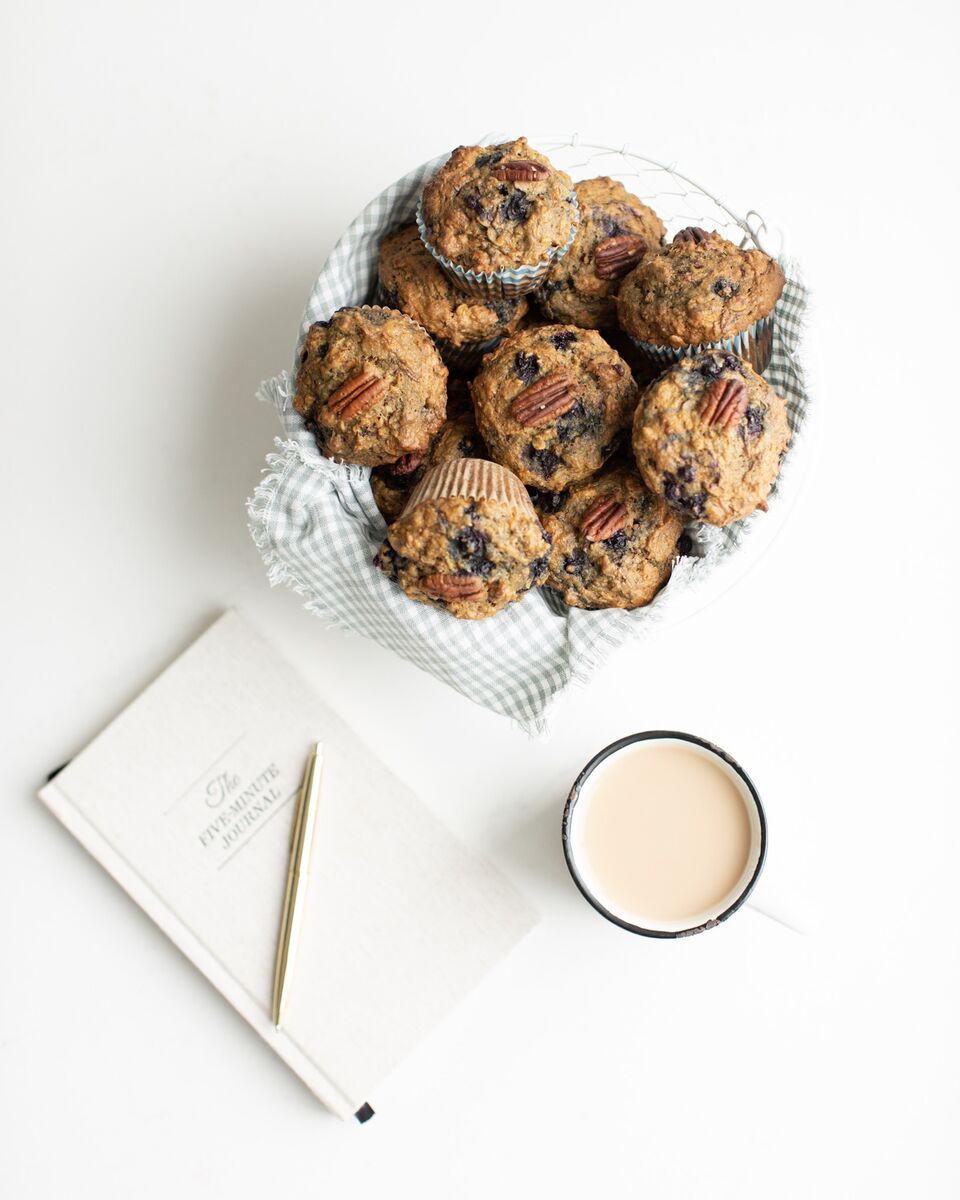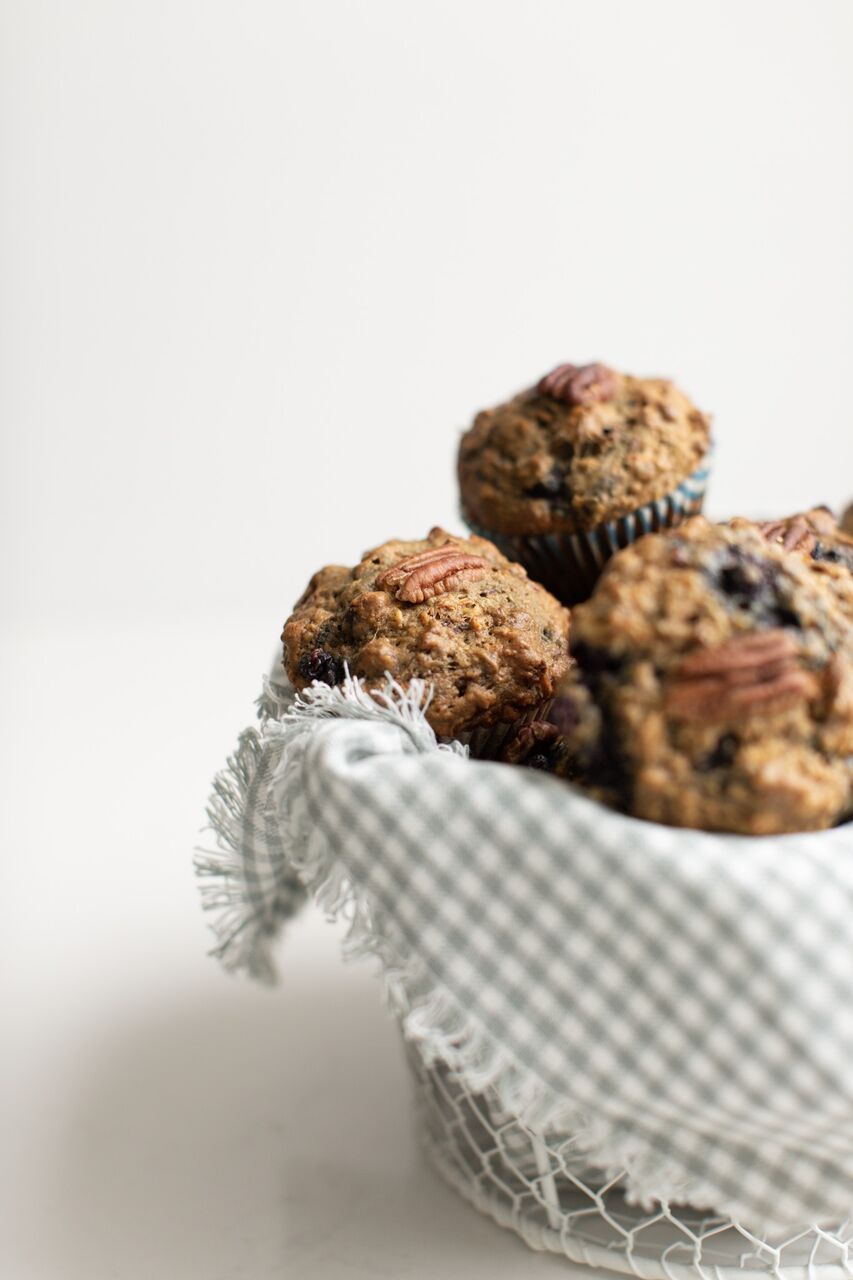 These muffins aren't too sweet, have plenty of fibre in them, use extra virgin olive oil (my favourite oil), hide vegetables (hello vitamins, fibre and antioxidants) and freeze beautifully.  Oh yes, and your house will smell AMAZING!  I mean, does it get any better than that?  One of the things that I love about making muffins is that it is a two bowl, three step process that anyone can handle, requiring no fancy gadgets or mixers, just some good old fashioned elbow grease.  If you're looking to expand your muffin recipe collection, try these mouth watering Blueberry Lemon Ricotta Muffins (Charlie's favourite), these Orange Hemp Muffins, or for a savoury twist, these Veggie Muffins.
A couple of things about these muffins. Of course if you're making these for lunches leave out the nuts and use a nut-free milk. Also, if you choose to substitute the eggs with the flax eggs to make them vegan (or if you've run out of eggs – honestly, keep milled flax on hand regardless of your situation), keep in mind that you'll end up with a denser muffin.  I made them both ways and they were gobbled up!  I haven't tried them with gluten free flour, but many of you have with great success: use a 1:1 blend (President's Choice makes a good one as does Bob's Red Mill).  A couple people commented that they subbed out spelt flour for the whole wheat flour with success!  And if you have a crew that doesn't like blueberries try raisins or blackberries instead!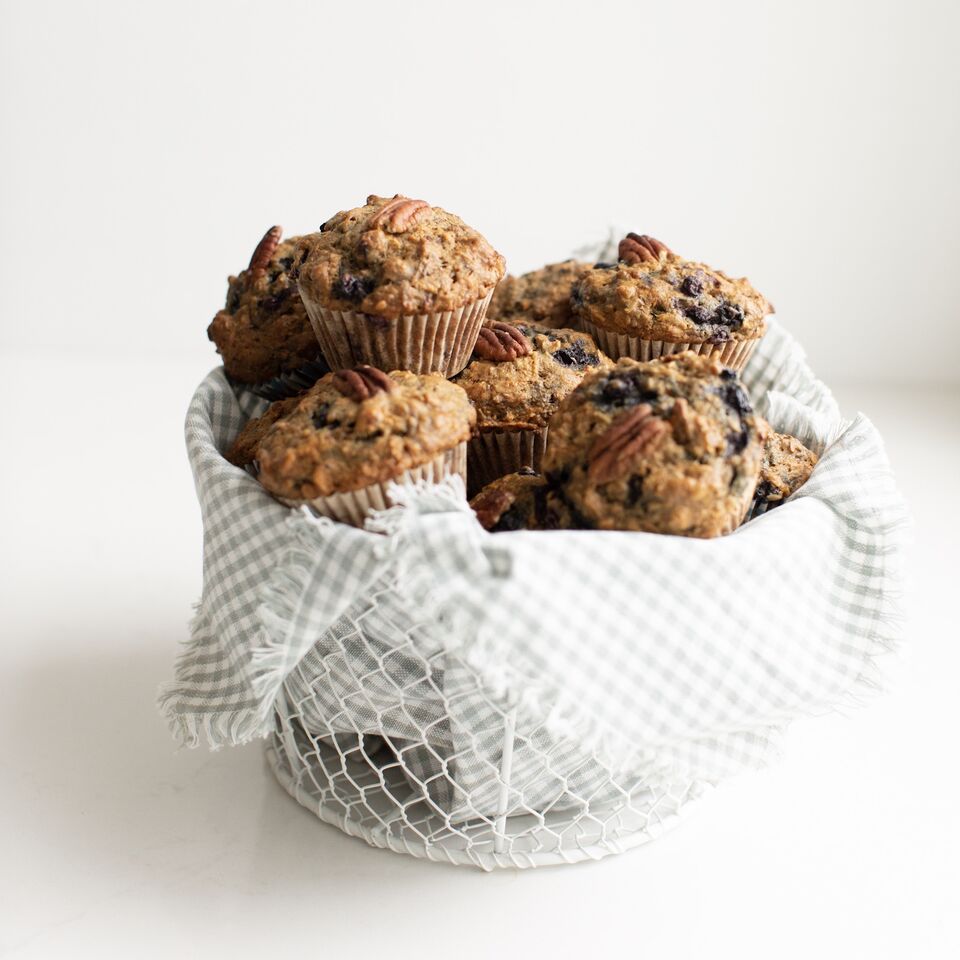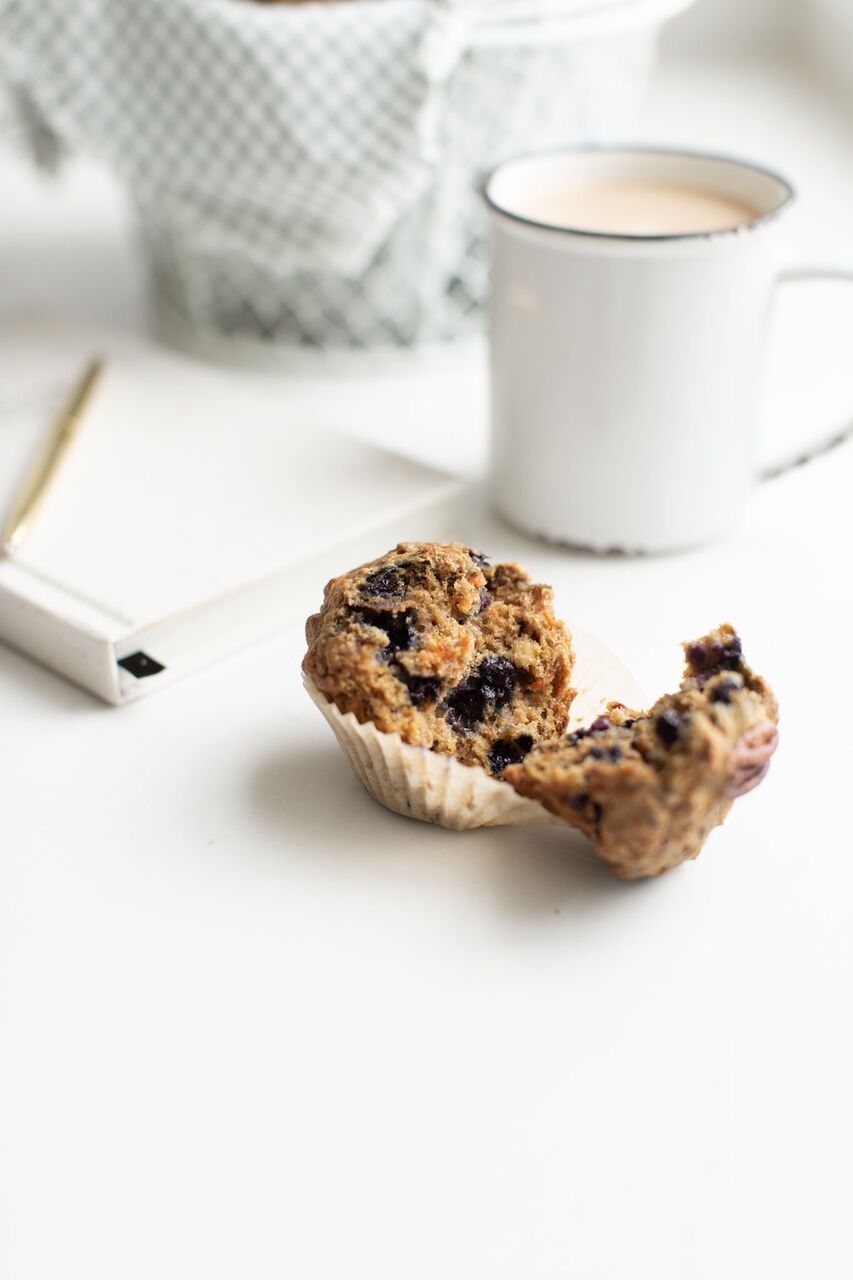 I would LOVE to hear if you make these and how your family enjoys them!
Hope your first week back after the holidays has been a GREAT one!
xo
Tori
Sneaky Mommy Muffins
These muffins are easy to prepare, loaded with vegetables and whole grains and studded with blueberries to make them completely irresistible.  These can be made vegan by substituting the eggs for flax eggs (note, it will make the muffins more dense, but equally delicious!).  Leave out the nuts and use a nut free milk if you're making these for school lunches of course! Use gluten free flour and oats to make these gluten free.
Ingredients
1

cup

old-fashioned oats

1 1/2

cups

whole wheat flour

1

cup

all-purpose flour

1/2

cup

brown sugar

2

teaspoons

baking powder

1

teaspoon

baking soda

1

tablespoon

cinnamon

1/2

teaspoon

nutmeg

1/2

teaspoon

allspice

1/2

teaspoon

salt

1

cup

toasted chopped walnuts or pecans

(optional)

3/4

cup

extra virgin olive oil

1/2

cup

maple syrup

1

teaspoon

vanilla

2

eggs, well-beaten

(see notes for flax egg substitution)

1/2

cup

unsweetened milk of choice

(almond, oat, soy etc)

1

cup

grated raw beets, peeled

1

cup

grated raw carrots, peeled

1/2

cup

grated apple or pear

(skin left on)

1 1/2

cups

frozen blueberries
Instructions
Preheat the oven to 375F and line a 12-cup muffin tin with paper liners (if you have 2 tins, line an additional 6 cups with liners).

In a large bowl, mix together the oats, whole wheat flour, all-purpose flour, brown sugar, baking powder, baking soda, cinnamon, nutmeg, allspice, salt and nuts. Whisk together to combine.

In a separate medium bowl, combine the olive oil, maple syrup, vanilla, eggs or flax eggs, almond milk, beets, carrots, apple and pear.

Stir the wet ingredients into the dry ingredients, folding until incorporated (do not over mix).

Fold in the frozen blueberries, divide the batter among the muffin tins, and bake until they are golden brown around the edges and a toothpick inserted in the middle comes out clean, about 30-35 minutes.

Place on a cooling rack and store at room temperature in a covered container for up to 5 days or in the freezer for up to 1 month.
Recipe Notes
To substitute the two eggs, in a small bowl mix together 2 tablespoons of milled (ground) flax seeds with 1/4 cup of water. Let it sit for 10 minutes before using in the recipe.