I am a sucker for all things heart-shaped, and have fallen head over heels for these yummy Thumbprint Heart cookies filled with your favourite jam. These cookies deserve two BIG thumbs up! Perfect for Valentine's Day or truly ANY occasion big or small.
With Valentine's Day approaching, I knew I wanted to get baking something special from the heart to share with my family and friends. If you know me, you know I am no stranger to a heart-shaped cookie cutter (LOL) but the beauty of this recipe is you can achieve the cutest little hearts with your thumbs! These cookies are not only delicious, but are the perfect easy way to spread some love (I wouldn't be mad if someone made me a batch). Full disclosure, consider doubling the recipe!
How to Make Thumbprint Cookies
The name says it all! Forming an indent in the dough is easy, and using your thumb makes a cute heart shape! You can also alternatively use a small spoon to get the shape as well. This will be the nesting ground for your yummy preserves, so make sure you push deep enough into the dough. Note: after the cookies come out of the oven, you might want to re-indent the hearts a little bit again prior to adding the jam, just push it in lightly with your pinky finger or a little spoon. Use a spoon to add jam evenly to all of your cookies, and ta-da! You have made yourself a sweetheart thumbprint cookie.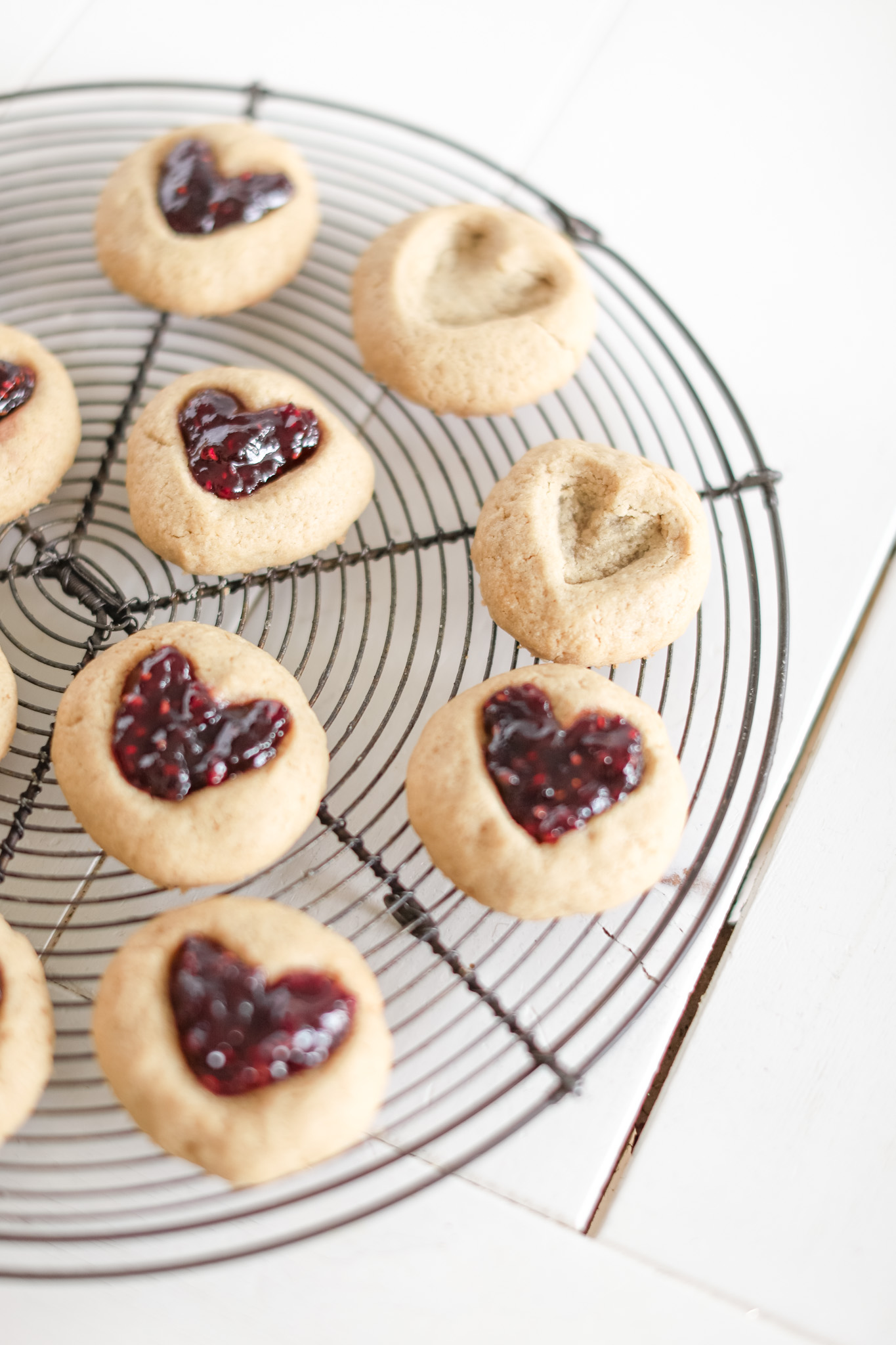 What Jam to use for Thumbprint Cookies
The real star here is the yummy jam you choose! I used a homemade raspberry jam gifted from my dear friend Mackenzie. If you have a homemade batch or a family favourite, now is it's time to shine! A strawberry, orange, apricot, blackberry, cherry (I think you get my point) jam would all work great! Let your cookies cool completely before topping with your jam of choice into the heart shaped indent.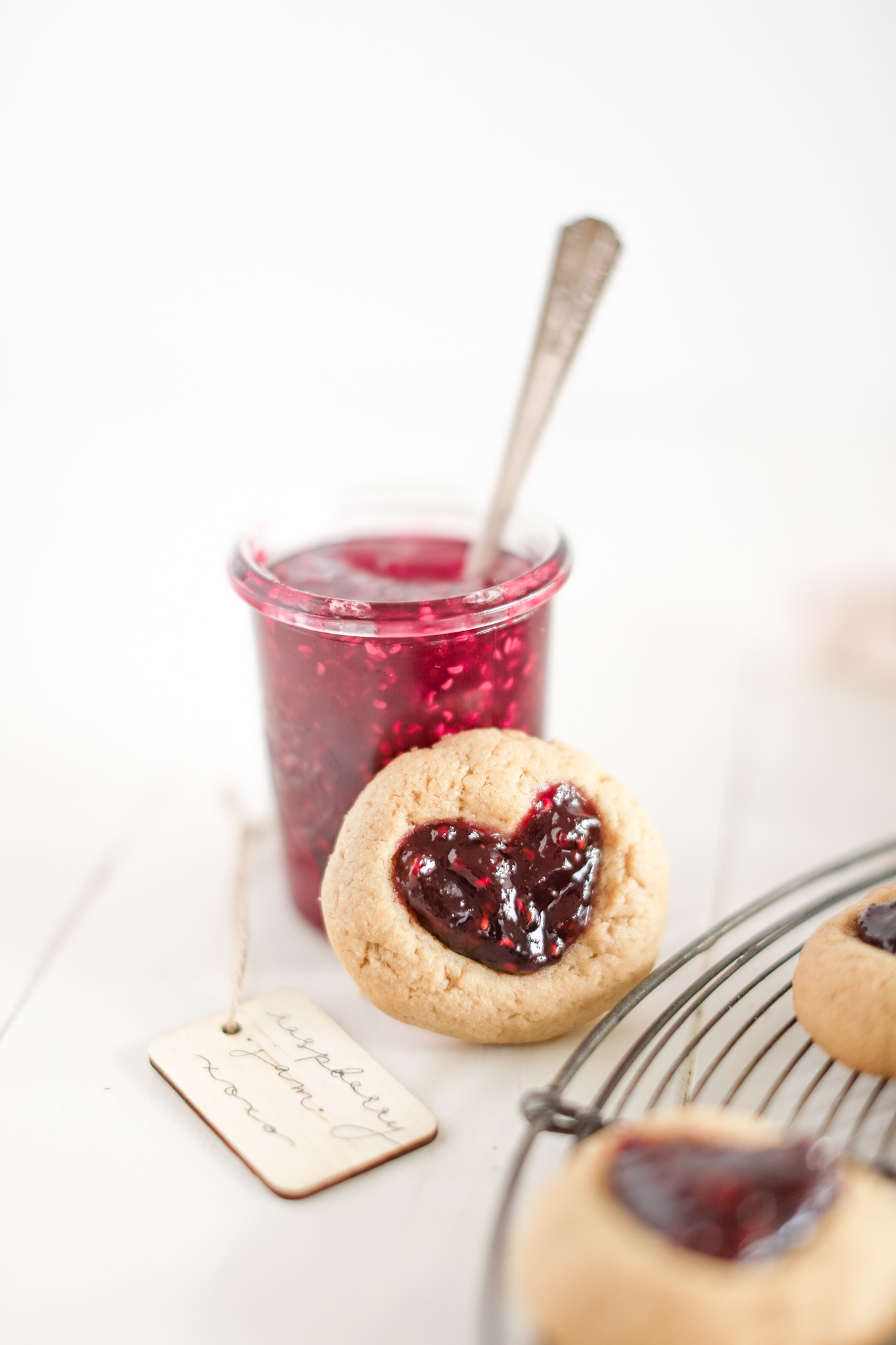 How to Make Cookies Vegan
Want to skip the egg? I've got you! Another reason (as if you needed more) to love these cookies is they can be made vegan.  I honestly loved how they came out! Replace egg in this recipe for 1 tablespoon ground flax or ground chia and 2 tablespoons water and stir together (let sit a few minutes before using). This version came out tasting so good… your family will never know!  Of course use vegan butter instead of the regular butter to make them fully vegan.

More Cookie Recipes
All you need is love… and cookies, right? Looking for more recipes to get baking? Try these Chocolate Coconut Love Bites (heart-shaped of course!) or check out this 8 Cookie Roundup! If you make these adorable Thumbprint Heart Cookies, make sure to let mw know how you enjoyed them below.
Thumbprint Heart Cookies
Thumbprint Heart Cookies
I am a sucker for all things heart-shaped, and have fallen head over heels for these yummy Thumbprint Heart Cookies, filled with your favourite jam! These cookies deserve two BIG thumbs up!
Ingredients
Original Thumbprint Cookies
3/4

cup

butter

(softened)

1/2

cup

lightly packed brown sugar

1

egg*

1/2

teaspoon

vanilla

1 1/2

cups

all-purpose flour

1/4

teaspoon

salt

1/4

cup

jam of choice

(I used raspberry)
Instructions
Preheat the oven to 375 F and line a baking sheet with parchment paper.

With an electric mixer, cream together the butter and brown sugar on high until light and fluffy. Add in the egg and vanilla and continue mixing until fully incorporated. Add in the flour and salt and continue blending until combined.

Shape the dough into 1" balls. Place on an ungreased cookie sheet 1 1/2 inches apart and gently press your thumb or the rounded back of a teaspoon in the centre twice, to form a heart indent (this is where the jam will be placed). Bake for 12-15 minutes. Remove from the oven and transfer to a cooling rack. If the centres have lost their shape, simply gently press again to re-create the heart shape. Allow the cookies to cool before filling the centres with around a dollop of your favourite jam.
Recipe Notes
*to make vegan, substitute the egg for 1 tablespoon ground flax and 2 tablespoons water, mixed together.