These Black Forest Black Bean Brownies are fudgy, gluten and dairy free, made in a blender and are laden with rum-soaked Okanagan cherries. Basically perfect!
My husband Charles doesn't really have a sweet tooth.  He's the kind of guy who would rather have another serving of dinner and skip the dessert (I can't relate, for the record).  Despite this, he has a real soft spot for Black Forest cake. Therefore, once a year I indulge him for his birthday and make a towering cake piled high with layers of soft, moist chocolate cake, fluffy whipped cream, shaved chocolate and rum-laden cherries.
I wanted to do something different this year (playing with fire, I know), and figured I would try my hand at a black bean brownie version.  I mean, we've been married for 10 years, isn't it time we mix things up?  Maybe the cake wasn't the place to start…
Nevertheless, my risk paid off.  While it wasn't the SAME as the real deal, this black bean brownie version of a Black Forest cake was an absolute hit.  Rich, dense and laden with rum-soaked cherries, it passed the husband test.  Top it with a heavy spoonful of coconut whip topping or ice cream (we tried both, equally delicious) and it is pure heaven.  And since the cake is literally made in a blender in one step, I saved myself many painstaking hours baking a fancy cake.  Happy Birthday to me?
Of course let's not forget that the cake is much healthier than the original version, made with black beans and free from dairy and gluten in case you're avoiding both or either.  Not that you will know, this cake is to DIE for!
Now let's talk about cherries.  We live in the heart of cherry country, and the Okanagan has the best in the world (I'm not biased at all…).  Some of my fondest memories include sitting in my grandma's cherry tree on that one perfect branch and eating fruit until my tummy hurt.
I feel SO lucky that I get to partner with BC Tree Fruits to create recipes out of fruit that's grown by the hard-working farmers in my back yard! Buying local when possible feels (and tastes) so good!  Make sure that you keep fresh cherries chilled to keep them from spoiling and freeze any extras (if you are lucky enough to have a surplus!) to use instead of ice cubes in a glass of sparkling water!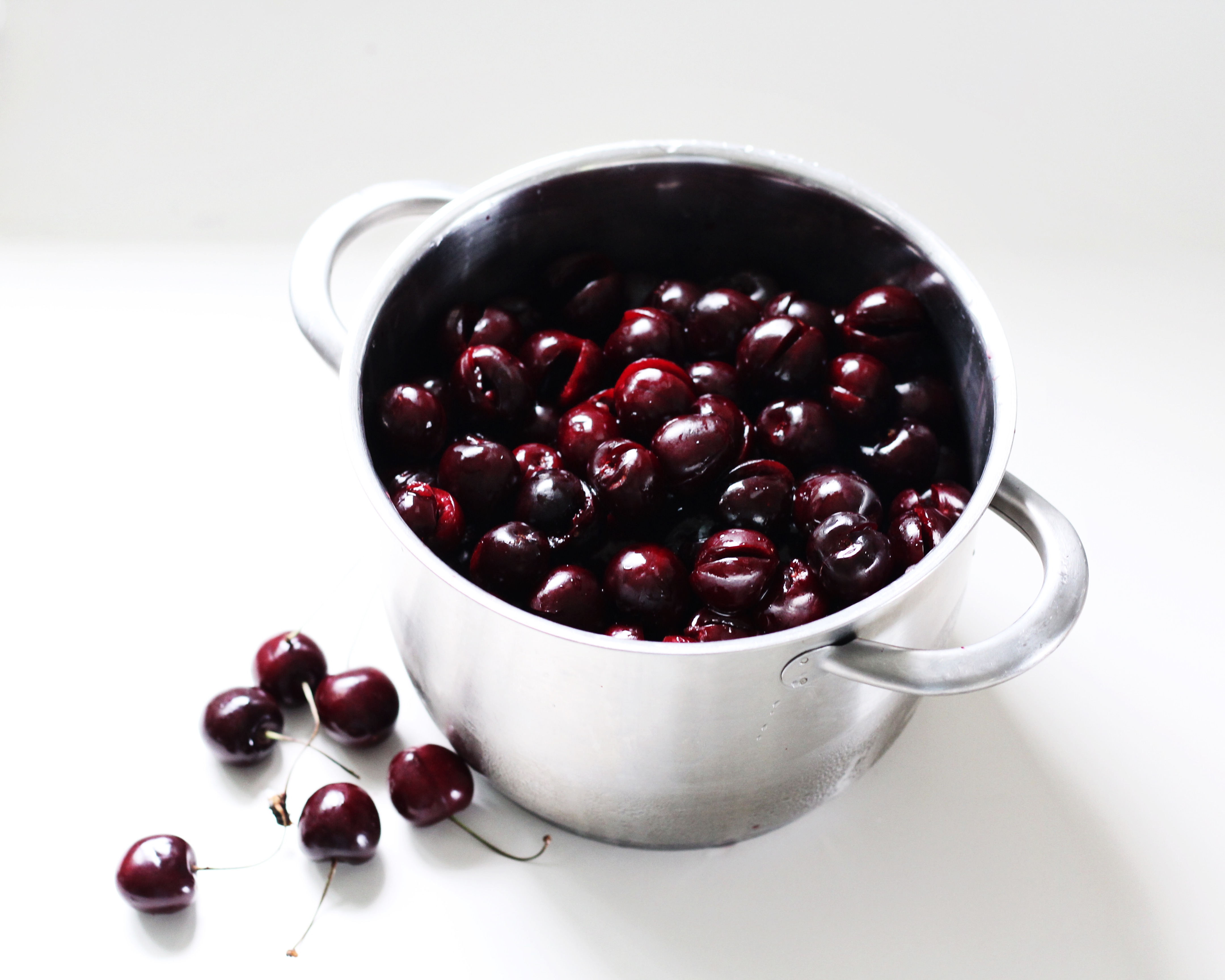 You can easily skip the rum in the cherries if you don't want to add it, and you could add a couple of drops of almond extract in its place should you want to jazz it up without the alcohol!
Rum Cherry Sauce
This rum cherry sauce isn't too sweet and is the perfect sauce for drizzling over ice cream or these Black Forest Black Bean Brownies.
Ingredients
5

cups

fresh pitted BC Tree Fruits cherries

1/4

cup

sugar

¼

cup

water, divided

1/3

cup

dark rum

1

tablespoon

corn starch

5

tablespoons

water
Instructions
In a medium saucepan combine the cherries, sugar and 2 tablespoons of water.  Cook over medium heat until the cherries soften and the sugar dissolves, approximately 10-15 minutes.  Add the rum and stir.

In a cup, stir together the corn starch and water until the corn starch is dissolved and smooth.  Slowly drizzle it into the cherries while stirring.  Continue to cook on medium heat until the cherries thicken and look clear not cloudy, approximately 2 minutes. Set aside.
Black Bean Black Forest Brownies
Fudgy and chocolaty and basically perfect with a scoop of rum cherries - serve this with a dollop of coconut whip or 'nice cream' to make it dairy free. This recipe is gluten free.
Ingredients
19

oz

can black beans, rinsed

1/2

cup

cocoa

2

eggs

1

teaspoon

vanilla

1/2

teaspoon

almond extract

1/3

cup

sugar or coconut sugar

2

tablespoons

honey

2

tablespoons

unsweetened almond milk

1

teaspoon

baking powder

1/4

cup

melted coconut oil

2/3

cup

dark chocolate chips or chunks

(dairy free if needed)
Instructions
Preheat the oven to 350F. Grease a 8x8' pan and line with parchment paper.

Place all of the ingredients except for the chocolate chips or chunks in a blender and blend on high speed until smooth, about 1 minute, scraping down sides if needed.

Pour the mixture into the prepared pan. Portion out 3/4 cup of the rum cherry mixture and randomly spoon it on top of the batter. Take a knife and run it through the batter to spread the cherries out a bit (not too much). Sprinkle the chocolate chips or chunks evenly on top and bake until set, about 40 minutes. Set aside to cool before serving.

Serve with a dollop of coconut whip or 'nice cream' and a spoonful of the rum cherry sauce.
Thank you BC Tree Fruits for sponsoring this recipe!