These Parmesan Lemon Roasted Brussels Sprouts are by far my all-time favourite way to prep these adorable little veggies! This recipe comes together quickly and and can be prepped ahead, making them the perfect addition to your holiday dinner table.
You either love them or hate them. Yes, I'm talking about brussels sprouts. And I confess, until recently I was in the 'hate them' group. I had been subjected to years of the mushy cold version and quite frankly, at the age of 41, was no longer in the mood to suffer through overcooked veggies.  Because life is simply too short for that nonsense.
Truth be told, I really had no clue how yummy these little veggies could be. It seemed so sad: such an adorable mini vegetable that has been given the WORST rap – I mean, has any other veggie been put through more ridicule? I think not.
I was inspired to make these after trying a similar version at a restaurant in Vancouver a while back on a trip with my mom, holding the waiter's tip ransom until he told me how they were made (he was thrilled). As it turns out they deep-fry theirs (sigh, no wonder they tasted so good), so I opted for a slightly healthier rendition which included oven roasting them instead.
Now, you don't need a dietitian to tell you that Brussels sprouts are healthy (your mom had that base covered).  These mini cabbages belong to the cruciferous veggie family and are filled with free-radical-fighting antioxidants, fibre, potassium, vitamin C and K, among others.  Fun fact (ok, fun might be stretching it; it's been a long week): these little gems are a source of indole-3-carbinol, a chemical being studied for how it affects DNA repair in cells and may block the growth of cancer cells.  Wasn't that fun?  Oh my gosh I need sleep my friends.
Ok, so back to Thanksgiving.  Since I've been on the road so much I'm opting for the most stress free Thanksgiving ever, which will include this dish.  And possibly only this dish.  Kidding.  Kind of.  I'm sure my family is most thankful that I'm not the only one cooking this year lol. But hey, I can make this ahead, with only a few ingredients…. leaving me more time for cuddles and naps which sounds pretty darned good to me right about now!
We will do a Thanksgiving round up post here ASAP as well, and we have one more side dish (it's slightly higher maintenance but delish) coming hopefully today!
xo
Tori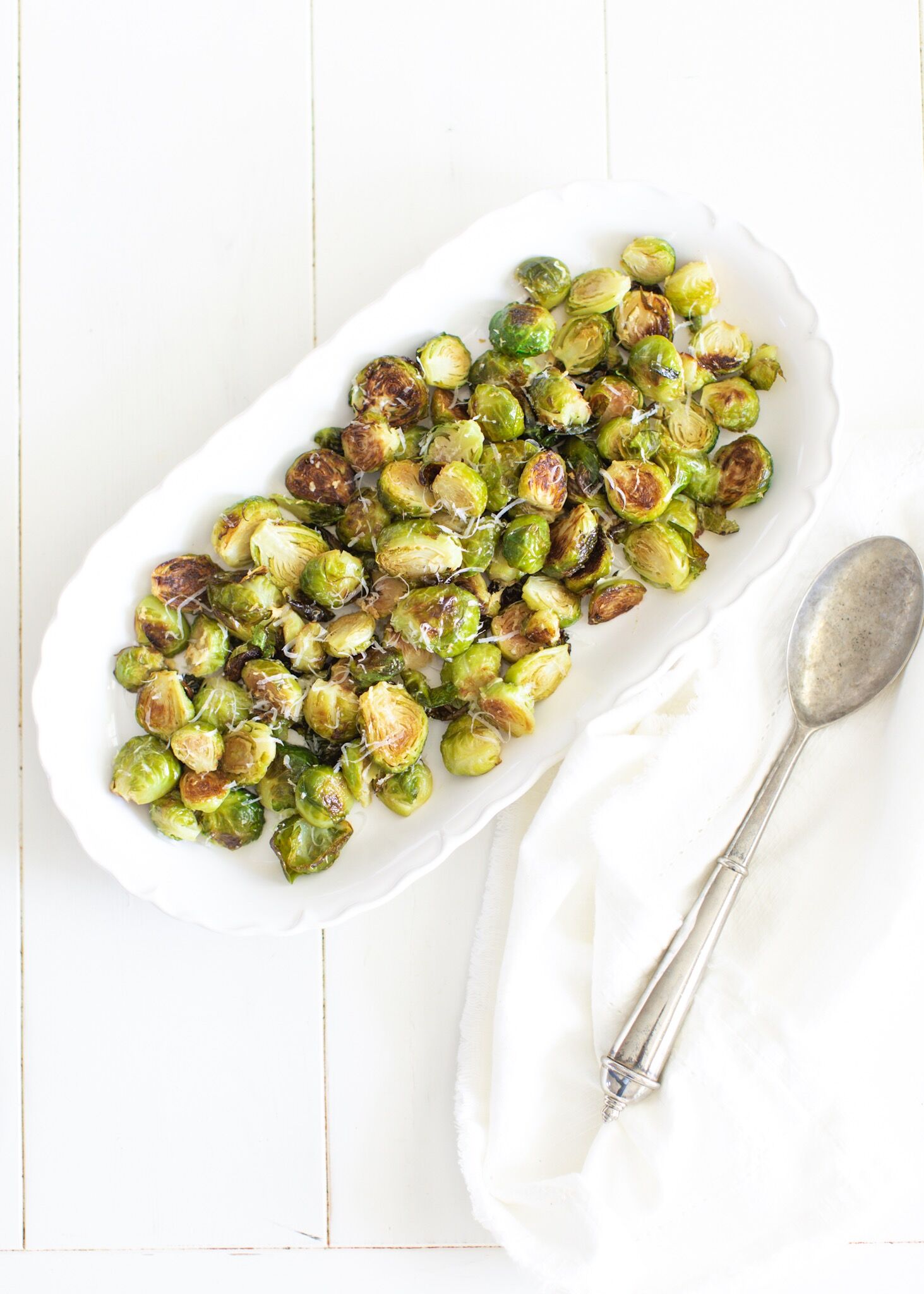 Parmesan Lemon Roasted Brussels Sprouts
Easy and delicious Parmesan Lemon Roasted Brussels Sprouts make the perfect healthy holiday side dish that can be prepped ahead. Serves 4-6 as a side dish.
Ingredients
1 1/2

lb.

Brussels sprouts

3-4

tablespoons

olive oil

1/2

teaspoon

sea salt

3

tablespoon

freshly grated parmesan cheese

(or sub vegan parm)

juice of 1/2 lemon

salt and pepper to taste
Instructions
Preheat the oven to 400F.

Prepare Brussels sprouts by trimming the end and removing any damaged leaves: wash thoroughly.

Cut the Brussels sprouts in half length ways through the stem, and drizzle with the olive oil: toss them to coat and sprinkle with the sea salt. Place on a baking sheet.

Bake for approximately 30 minutes, until golden brown and cooked throughout, tossing half way through.

Remove from oven and immediately toss with the parmesan cheese and lemon juice.  Season with salt and pepper to taste.
This dish pairs well with this Parmesan Roasted Acorn Squash or these Garlicky Kale Mashed Potatoes. I'd also recommend serving this Gluten Free Pumpkin Pie for dessert or these Dairy Free Mini Cheesecakes (my FAVS)!
If these Brussels sprouts with Parmesan are a hit on your dinner table let us know in the comments below!