Back to school is right around the corner (gulp!) and my mom brain is already thinking of school lunch ideas and healthy snacks for Max and Charlie.  These cherry muffins are moist and not too sweet with a touch of citrus and a healthy dose of fibre… not that you can tell!
I have become quite fond of baking with olive oil and this recipe is proof that it is such a versatile and baking-friendly fat!  You can substitute melted butter or vegan butter if you wish but I love the olive oil, you don't really taste it!  I used cherries along with a mix of cherries and blueberries here (both were delicious and pictured below; you can still find fresh cherries at most grocery stores in the Okanagan at least) but you can really use any berry, fresh or frozen that you wish.
This recipe is a play on my original Lemon Blueberry Oat Bran Muffins which are another big hit!  And if that's up your alley, give my Blueberry Lemon Ricotta Muffins a whirl, they are so moist and flavourful and remain one of my all-time favs!
What other recipes would you like to see?  I know we are heading back into a season of routine where being prepared with healthy foods for the family is super important, would love to know what you want to see more of!
xx
Tori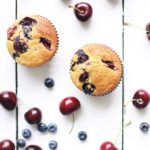 Cherry Citrus Oat Bran Muffins
We make these moist flavourful muffins in the summertime when cherries are falling off the tree but you can make them any time of the year with frozen cherries or another fresh or frozen berry. These freeze well!
Ingredients
1

cup

all-purpose flour

3/4

cup

whole wheat flour

1 1/3

cup

oat bran

1/2

cup

sugar or coconut sugar

1 1/2

teaspoon

baking powder

1/2

teaspoon

baking soda

1/2

teaspoon

salt

3

free range eggs

beaten

1

cup

plain or vanilla unsweetened almond milk

1/2

cup

full fat vanilla yogurt

(or dairy free yogurt)

1 1/2

tablespoons

orange zest

2

tablespoons

fresh orange juice

1

teaspoon

vanilla

1/3

cup

honey or maple syrup

1/2

cup

extra virgin olive oil

2

cups

fresh halved pitted cherries

(or a mix of fresh or frozen berries)
Instructions
Preheat the oven to 350F and line 18 medium muffin tins with paper liners (I know it's an awkward number, it's just how the recipe turned out! Just bake them in two batches if you only have one tin)

In a large bowl whisk together the flours, oat bran, sugar, baking powder, baking soda and salt.

In a separate medium bowl, whisk together the eggs, almond milk, yogurt, orange zest, orange juice, vanilla, honey or maple syrup and olive oil.

Fold the liquid ingredients into the dry ingredients with a rubber spatula until just mixed. Fold in the cherries.

Using a large spoon or ice cream scoop (mechanical), divide the muffin batter among the lined tins and bake until they are golden brown and a toothpick inserted in the centre comes out clean, about 25-30 minutes. Remove from the oven and when cool enough to handle, transfer the muffins to a cooling rack. Can be stored covered at room temperature for up to 3 days or frozen in a sealed container for up to 1 month.