Summer is still here, and so are meal salads like this Niçoise Salad with Salmon.  Filled with delicious goodness straight from the garden, it is one of my go-to salads for a hearty lunch with the girls or a nice light dinner on the patio.  And it is also gluten-free!
When I grew up, a salad meant one thing.  Iceberg lettuce with tomato and cucumber and a bottle of dressing on the table.  To be honest I still crave that exact salad- so simple.  Of course, my salad game had to dial up a few notches when I started studying nutrition, and meal salads soon became a thing.
I was first introduced to "Salade Niçoise" on a trip to France and was instantly in love!  Now, I'm not professing that this is the most traditional version of the salad, but I'm a bit of a rule breaker.  Haha that's a total lie I'm a massive rule follower.  But I let my inner rebel shine through for this one…  I know, I'm crazy like that;)
Now, you can alter this recipe if you need or want to. For instance, you can just use boiled potatoes (especially at this time of year if you are lucky enough to have fresh potatoes from the garden).  And you can add in or sub other veggie as you wish!
This salad is full of fibre, vitamins and minerals (and heart healthy omega-3 fat thanks to the salmon) – it gets a BIG thumbs up as far as healthy salads go.
Happy rest-of-summer my friends!
If you love meal salads as much as I do you'll also love this Cowgirl Salad (like the Earl's Santa Fe Salad), this Falafel Salad, or this Grilled Peach and Corn Salad with Spicy Prawns.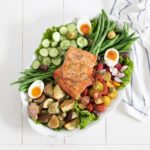 Nicoise Salad with Salmon
This salad is loaded with so many delicious ingredients and is perfect to feed the whole family for dinner!
Ingredients
For the Salad:
1

lb

white, red or yellow potatoes

(cut into 1 inch pieces)

2

tablespoons

extra virgin olive oil

2

salmon fillets, skin on

450

grams

green beans

(1 small bunch)

200

grams

cherry tomatoes

(cut in half)

200

grams

radishes

(cut in quarters)

1

head, green lettuce

75

grams

olives

2

mini cucumbers

(sliced)

2

eggs

(hard boiled)

1/4

cup

chopped herbs

(ie: dill, chives etc)

salt and pepper to taste
For the Dressing:
1/3

cup

extra virgin olive oil

1

teaspoon

white wine vinegar

1

teaspoon

dijon mustard

salt and pepper to taste
Instructions
Preheat oven to 400F and bring a medium pot of water to a boil. Cook the eggs to hard boil them, 7-10 minutes depending on how soft you like them. Remove from the heat, rinse under cold water and peel. Set aside.

On a baking sheet lined with parchment paper, toss the potatoes in the 2 tablespoons of olive oil, season with salt and pepper and roast the potatoes until golden brown, turning half way through (about 15-20 minutes). Set aside to cool slightly.

Turn the oven to broil and place the salmon filets on the baking sheet. Brush a small amount of olive oil on top of the filets and season with salt and pepper. Broil until done around 8 minutes depending on the thickness of the filets. Set aside to cool.

In a large platter assemble the ingredients, finishing with the herbs.

Whisk all of the salad dressing ingredients together in a small bowl and serve with the salad!
If you give this Niçoise Salad with Salmon a try let me know if your family loved it as much as ours in the comments below!