Tofino is our place.  We've loved travelling here ever since Charlie was two years old, and it has stolen a piece of our family's hearts.  It is rugged and beautiful, and one of our favourite places to watch Mother Nature work her finest.  Here is where we stayed, ate and played this year! Enjoy Our 2021 Tofino Guide.
How to Get to Tofino
Tofino is located in Clayoquot Sound, a region that takes its name from the Tla-o-qui-aht First Nations people who have resided here for thousands of years.
It takes about 10 hours to get to Tofino by car and ferry, but even though our kids are NOT good travellers, it is a fairly easy trip. The ferry ride out of Vancouver (we come from Kelowna and take the Tsawwassen Ferry) breaks up the journey, and the kids basically just run laps on the deck of the ferry the whole time (around 2.5 hours).  The road has closures so be sure to check the schedule.
You can also fly to Tofino via Pacific Coastal Airlines or Harbour Air directly.  I simply pack too much stuff to fly lol.  There really aren't many places to pick up things like socks and underwear (translation, none), so double check your bag before you leave!
Where to Stay in Tofino
There are a lot of options when it comes to accommodations in Tofino ranging from luxury to camping.  We've stayed at a number of different places, and this time had the chance to stay at Long Beach Lodge Resort with a hosted stay.  Nestled in Cox Bay, the area is known for the great surfing.  Long Beach Lodge offers both cabin and hotel-room-style accommodations (with ocean views); we stayed in a cottage.
What to do in Tofino
Strolling the beach watching the boys play in the waves is our favourite thing to do. We make a point to book Jen with Flytographer anytime we come to Tofino to snap family pictures and have a series now documenting every year we are there.  Use the Flytographer discount code FRAICHE50 to get $50 off your shoot.
For something a bit different, if you're an early bird consider heading to the beach before dawn to watch the wolves feed on seafood at Long Beach.  Should hiking be on your agenda, check out the Canso plane crash site (from 1948); it's a 5 km hike.
We visited the Roy Henry Vickers art gallery which was a real treat, and if you have the time and enjoy art, visit the House of Himwitsa Native Art Gallery.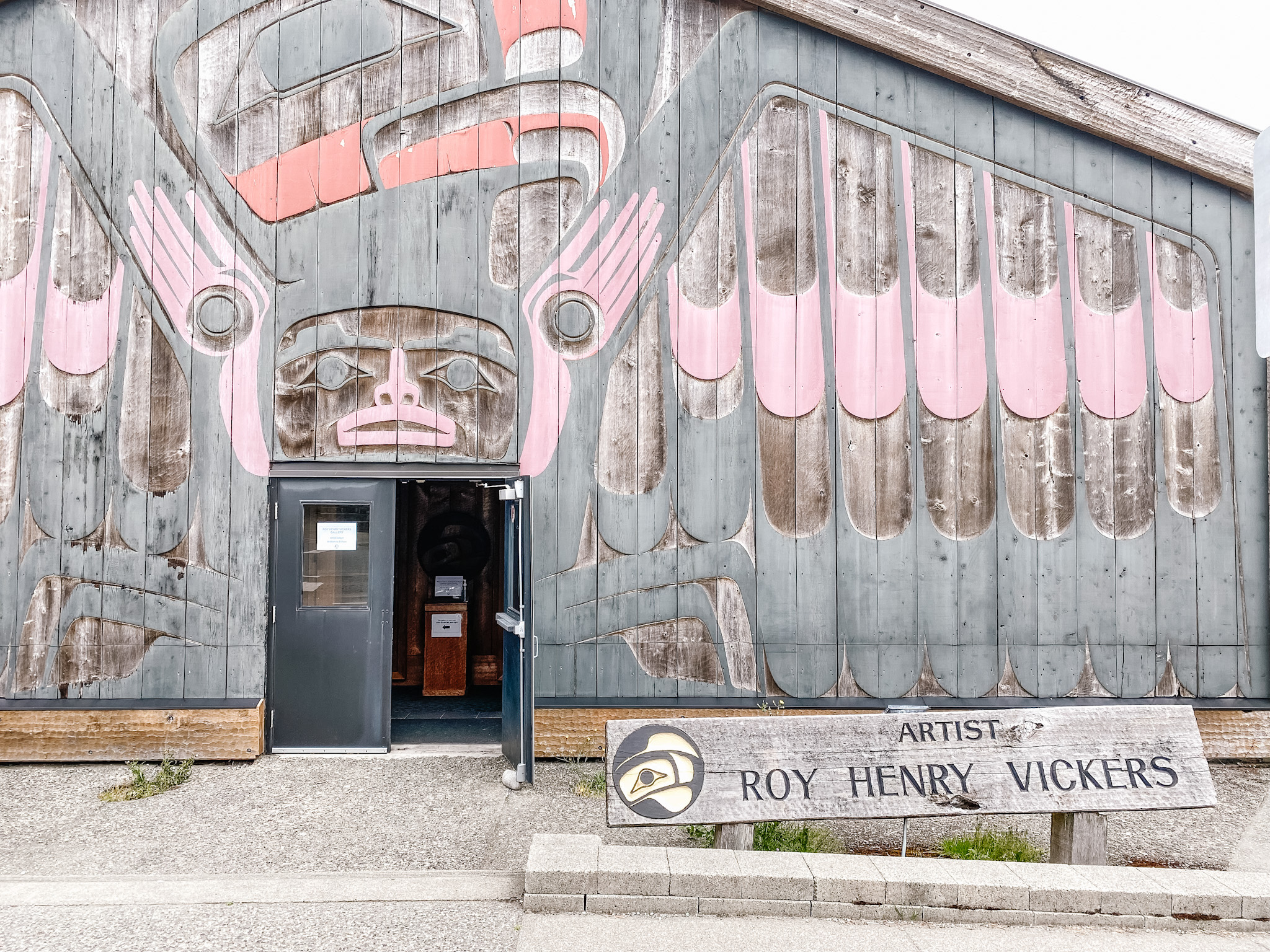 Where to Buy Groceries in Tofino
We try to bring the basics with us when we come to the Island, and simply top up with the beautiful local products.  Here are the places to get what you need in the food department!
General Grocery Stores in Tofino
The biggest (and only really) grocery store is the Co-Op located on the Main Street.  Two smaller grocery stores, Gaia (organic, local) and Beaches both have a small selection of goods as well.  I haven't been, but LA Grocery apparently has a basic inventory as well.
Fresh Seafood in Tofino
While I'm sure there are many places to purchase seafood in Tofino, the Fish Store is a good one to hit up.  It's located in the same industrial complex just outside of town as Red Can Gourmet and Picnic.
Bakeries in Tofino
Ouest Artisan Bakery is situated at the end of Tofino along with other shops and restaurants that are built out of shipping containers. They sell out early!  You can pre-order delicious beautiful cakes as well in case you're celebrating a special occasion. The Common Loaf is a popular bakery offering gluten free, vegan and organic baking that is nestled right in town on a side street, and the Tofitian is right on the highway before you get into town and has been voted the best coffee in Tofino – just sayin'.
Ice Cream in Tofino
Tofino Licks is on Campbell Street, at the end of the road by the water in Tofino by Ouest Bakery and our kids gave them a thumbs up.  The Candy Jar (in town) is also popular with our boys – I now see where the saying 'like a kid in a candy store' comes from! They have ice cream as well.  Chocolate Tofino has homemade chocolates and gelato with a cute rustic outdoor seating area.
Charcuterie in Tofino
Oh my word, I stumbled on PICNIC and fell in love!  Such a tiny adorable place with the kindest people working there.  Grab all your charcuterie goodies here, complete with little boards you can purchase (assuming you don't want to bring yours from home lol – something I actually considered). Just add wine.
Wine & Beer in Tofino
Oh yes, wine.  We brought a bunch with us, but there is a BC Liquor Store right in town along with one private liquor store the MAQ (in a hotel).  If you're looking for local craft spirits check out Tofino Distillery or for beer Tofino Brewing Company.
Best Tofino Restaurants
We ate a couple of breakfasts and a dinner at the Great Room in the lodge, and every meal was outstanding.  For a super casual vibe and incredible fish tacos, either stand in line at Tacofino or head over Surfside Grill at Pacific Sands Resort.  Red Can Gourmet is the most unassuming place and such a hidden gem in a little industrial area.  Grab takeout pizza, epic sandwiches or brunch to go.  You truly won't be disappointed.
One of my new discoveries that I highly recommend is the Sandbar Bistro located right at Long Beach lodge on the ocean.  Cozy up in the ocean-side Adirondack chairs by a fire with delicious casual fare and a drink and gaze out at the surfers working their magic.  For an upscale dinner with spectacular views, check out The Pointe Restaurant at the Wick.
Learn to Surf in Tofino
We've taken surfing lessons a few years in a row now (not that you'd know by watching me lol), and our favourite place to learn to surf is Long Beach Lodge.  The lodge was built around the surf culture, and I can't even begin to say enough incredible things about the staff. They have everything you need to surf but call ahead to book as they fill up quickly – don't forget to book the outdoor hot tub for an après surf soak. Our instructor Chance, the manager of the Surf Club, is such a gifted surfer and truly a wonderful teacher.  The kids fell in love with him (especially Max)!  We hope he never leaves – we will be back.