Hands down, my favourite spot in our house is our pantry.  Charles and I spent hours upon hours perfecting the design and layout of our kitchen and pantry to maximize the space and cram as much functionality in as we could while maintaining a classy, uncluttered design.
There was zero lack of inspiration on Pinterest…here are the ones I was seriously crushing on including some of the elements that I think are key in designing a functioning pantry (some I used, some I couldn't)!  I can't wait to show you our pantry tour very soon, but in the meantime here are a few of my favs!
Design Element #1: Open Shelving
I LOVE functioning pantries with open shelving: it is functional but also so beautiful as it offers a space to display beautiful art work, little vases of flowers, bowls of fruit and of course your nicest kitchen ware like the ones below.
Oval Windows
Really, any window in a pantry is king!  And this pantry below from Jillian Harris is absolutely swoon-worthy!  I didn't have the opportunity to get a window in my pantry BUT I'm lucky enough to be related to Jilly…and get to use this beauty all the time!  I always joke that she can just make me a bed in here, it's my dream space!
Vintage Shelving
I've always loved the mix of old and new, and there are so many creative display ideas for pantry shelving that make a space so unique!  Distressed white wood is always my fav!
A place for EVERYTHING
Having the proper space designed for all of your kitchen gadgets is worth it's weight in gold. Those pan slots?  Genius!  And the little hooks for espresso mugs?  Love it!  Being properly organized in the kitchen saves a world of frustration, yes?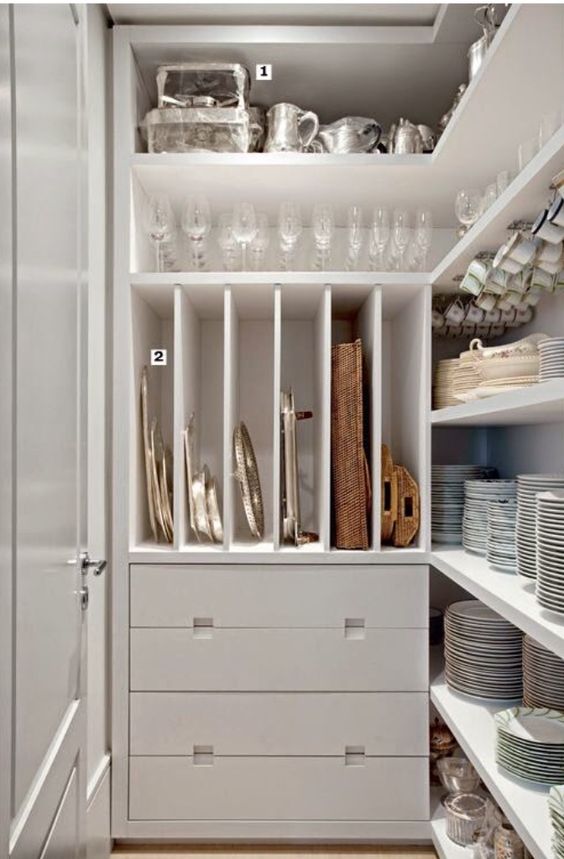 Mini Bar
I know, I know, I'm a Dietitian so this one may seem out of place…BUT I also live in wine country so can you blame me for including this one?  We were so lucky to have Norelco design us a perfect bar space for entertaining similar to the one below so that it is kept all of the kitchen island and can be stored away easily.  Glass cabinets were on my wish l list and I am so grateful to have them!
Sliding Ladder
No, I didn't get this (but could use a ladder now that I think about it).  And perhaps this isn't a crucial element but I simply adore it!  This pantry was the first one that I ever pinned and it is still so dreamy, I love everything about it!  Don't you agree?
Small Appliance Storage
We wanted to keep our kitchen counters clean, so decided to make a space in the pantry to house all of our kitchen appliances including the blender, toaster, microwave etc. similar to the design below.  Mission accomplished, I can't wait to organize it all!
Roll Out Shelving
I've become a big fan of roll out shelving, it's a bit frustrating trying to dig your way into the back of the cupboards and things get lost (and messy).  And what mom needs MORE frustration may I ask?  These shelves are so dreamy, I love the feel of this slightly industrial space!
Arched Doorway
Total splurge but we wanted the doorway into our pantry to look a bit different, so Charles indulged me in two arched doorways, one into the pantry and another into my office.  It gives the space a traditional, unique feel that I love!
Details, Details
Pretty vintage silver salt and pepper shakers, classic white stacks of plates, vintage baskets filled with potatoes… the details really make a space.  I love hunting for pretty things (usually vintage, so much more fun!) and can't wait to fill my space with all sorts of goodies!  Our things have been in storage for so long that I can't even remember what I have!
Check out my Pinterest Page for more of my home design inspiration!  What is your favourite pantry detail?  What would you include in your dream pantry?  Tell me below in the comments!
xo Tori