This bright and citrusy Seafood Linguine is a refreshing departure from the traditional heavier versions loaded with cream, and the whole dish comes together in just over 30 minutes!
We love serving pasta for guests but tend to steer away from heavy sauces, especially at this time of year! It's always nice to have an arsenal of go-to recipes at your fingertips for entertaining that are impressive but don't require tons of work. This recipe totally fits the bill.
Because this comes together quickly, you want to make sure that you have all of your ingredients prepped ahead of time and within reach while you cook. Overcooked pasta is one thing, but overcooked seafood is quite another. For that reason, read over the recipe before you cook (always a good idea) to make sure that you get the timing down.
Jump to Recipe
Vegan Pasta Dinner
Looking to skip the seafood in this linguine? This pasta is super flavourful on it's own if you happen to want to make it vegetarian and leave out the seafood. You can easily substitute vegan butter and vegan parmesan should you wish to make it vegan (again, leaving out the seafood obviously).
What Seafood to Use in Seafood Linguine
We used a mixture of large scallops and shrimp but you can use whatever seafood you like! In fact, you could even sear a few filets of salmon or another fish and place it on top of the pasta if that is more up your alley. If you do choose to use scallops be sure to rinse them well as they tend to hide sand inside of them (not the crunch you're looking for in a dish, I promise). I also love this dish with clams! They go so well with the white wine. Yum!
Choose a nice dry white wine that you love to drink – this recipe has a lot of wine in it so you will notice the difference. Sandhill wine is our go to!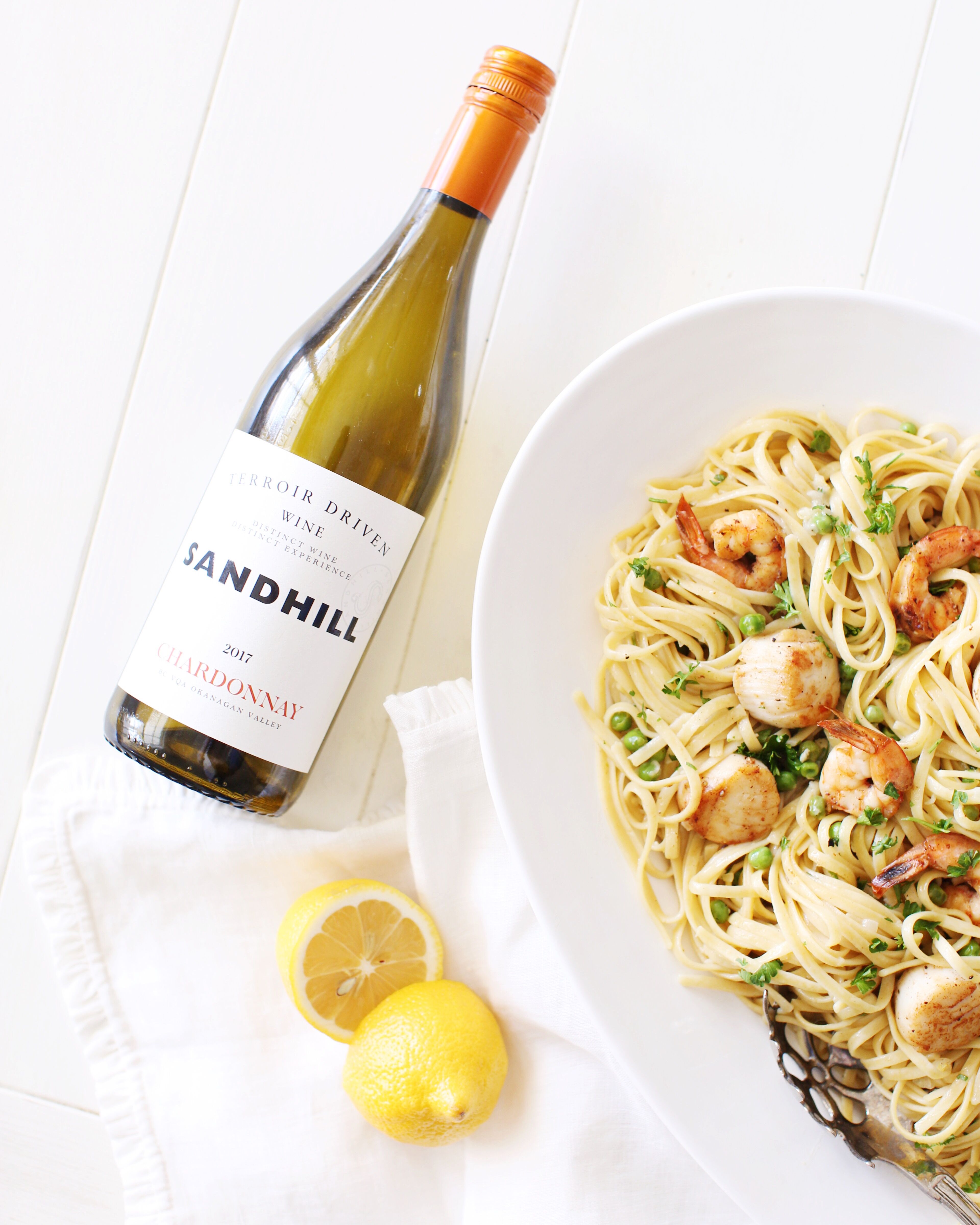 Using the Always Pan
I recently got my hands on the Always Pan from Our Place, and put it to work with this Seafood Linguine. Oh my goodness…. it simplified this recipe into less steps and fewer dishes. Huge mom win! I broke down how I modified this recipe incase you also have this pan and want to give it a whirl. Still refer to the original recipe for ingredients and more detail!
Bring a large pot of salted water to boil, and once added my pasta, cooking until al dente.
While the pasta cooks, heat the Always Pan on medium adding in oil, butter and once melted the shallots. Once transparent, add in the garlic (about 1 minute) followed by the white wine.
Add seafood to the Always Pan nesting steamer basket, and place on top of the pasta. Close the lid and let cook for 2-4 minutes or until seafood is cooked, shells are open (if using clams/mussels) & shrimp is pink throughout.
Remove steamer basket, add in cooked pasta, peas, parsley, lemon juice, lemon zest, and salt & pepper. Toss with tongs, adding extra pasta water if needed. Then add your seafood to the pan.
Serve right at the stove top or at the table from the Always Pan!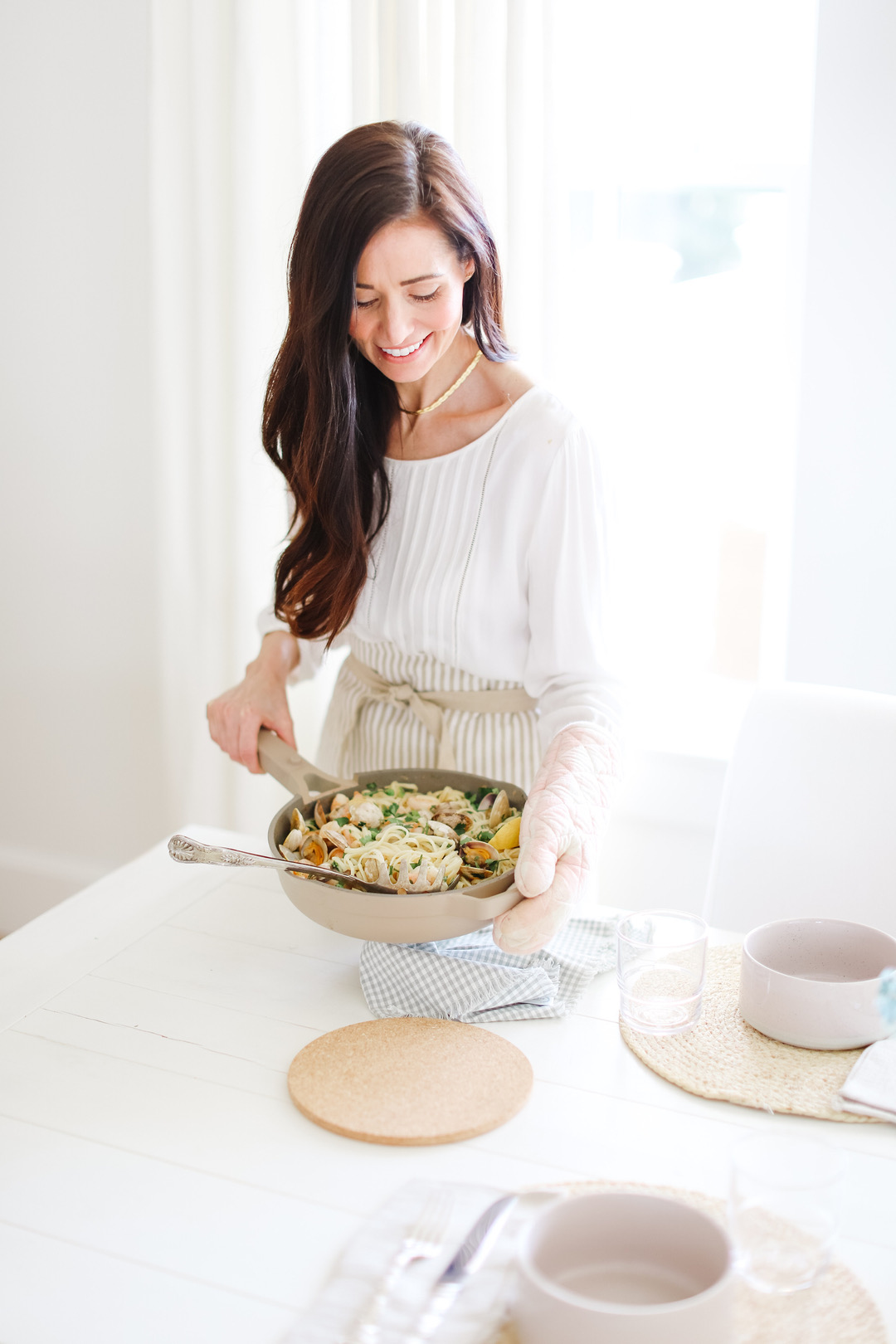 Click HERE to check out my IG Reel of my Seafood Linguine in the Always Pan!!
Seafood Linguine
Seafood Linguine
This bright summery pasta is perfect for a lighter take on a traditional creamy linguine sauce and is loaded with flavour thanks to plenty of garlic, olive oil, shallots and white wine! This linguine tastes divine even without the seafood if you're serving it for a vegetarian crew. Serves 4-6 people.
Ingredients
1.5

lbs

seafood, thawed if frozen

(I used scallops and peeled shrimp)

1

lb

dry linguine noodles*

(16 oz – or less)

4

tablespoons

olive oil

(divided)

2

tablespoons

butter or vegan butter

(divided)

3

cloves

garlic

(divided – 2 cloves crushed, 1 smashed)

2

medium shallots, finely chopped

1 1/2

cups

dry white wine

(I used Sandhill Chardonnay)

1/2

cup

fresh grated parmesan or vegan parmesan

(plus extra for serving)

2

cups

fresh or frozen green peas

1/2

cup

fresh chopped parsley

(flat leaf or curly)

2

teaspoons

fresh lemon juice

1

teaspoon

finely grated lemon zest

salt and pepper to taste
Instructions
Bring a large pot of salted water to a boil.

Rinse the seafood well (especially the scallops) and pat dry with a clean dish towel or paper towel. Set aside to sit at room temperature while preparing the rest of the dish.

Add the pasta to the water and cook until al dente. Note: drain the pasta in a colander once cooked but do not throw out the pasta water at any point! Prepare the pasta sauce while the pasta cooks as per below.

While the pasta cooks, in a large frying pan over medium heat, add 2 tablespoons of the olive oil and 1 tablespoon of the butter. Once the butter is melted, add the shallots and cook until fragrant and transparent, about 4 minutes. Add the 2 cloves of crushed garlic, and cook for 1 minute, stirring (careful to not brown or burn the garlic as it will become bitter). Add the white wine to the pan, stir, and cook until reduced by about 1/2.

Heat a large frying pan on medium heat, add the remaining 2 tablespoons of olive oil and 1 tablespoon of butter along with the 1 clove of smashed garlic, season the seafood with salt and pepper, and cook in batches, starting with the scallops, (careful to not overcrowd the pan or they will steam, not sear) on each side until the scallops are golden brown (the time will depend on the size of your scallops, but about 2 minutes per side) and the shrimp about 2-3 minutes in total, until they just turn pink and are cooked throughout. Set the seafood on a plate, tent with foil, and finish assembling the pasta.

Add the cooked pasta to the shallot white wine sauce, turn the heat to medium, and add the peas, parsley, parmesan, lemon juice, lemon zest and salt and pepper to taste. Toss with tongs to combine, adding extra reserved pasta water to loosen the pasta if needed (I always add a couple of ladles of it) and cook until the peas are done, about 1-2 minutes.

Transfer to a large platter or serving dish, top with the seafood and serve immediately with extra parmesan on the side.
Recipe Notes
*use less pasta for a lighter dinner and add more veggies or toss in zucchini noodles!