This Strawberries & Cream Sweet-Tart is creamy and over-the-top cute! Use a small heart-shaped cookie cutter to create the prettiest tart ever, just in time to wow your sweetheart for Valentine's Day!
If you only invest in ONE cookie cutter, this heart one is IT! Mind you, I have an entire bucket of cookie cutters (Marie Kondo would have a heyday – or more likely faint – if she opened my kitchen cupboards)….
Strawberry Recipes
I love using strawberries in my recipes and it is usually a safe bet when making something for a crowd! Here are some of my favourites, that also are perfect for Valentine's Day!
Make This Recipe Ahead
This strawberries and cream tart takes a bit of advance preparation if you want to get a thick and creamy filling, but don't mistake this for hard work my friends.  All you need to do is put the Greek yogurt inside a cheesecloth or a paper towel-lined sieve and leave it for a day or two in the fridge.  How easy is that?
The best thing about this tart, next to the fact that it is so yummy, is that it can be made in advance.  And let me tell you, when you're entertaining (or even when you're not), making things in advance is KEY.  Especially when you can whip something out of the fridge that looks this damned impressive and nonchalantly set it on the table all Martha Stewart-like like it's no big deal.  You've got this girl.
Dairy Free Dessert 
Now, if you want to make this dairy free I have two options for you.  One, you can find a dairy-free Greek yogurt. Otherwise, you can completely switch it up and use the recipe for the dairy-free cream pie filling at the end of this post that will not disappoint!  Either way I have you covered.
Healthier Strawberries & Cream Tart
Of course, I should mention that this tart is a healthier version of any other strawberry tart I've come across, using honey (and as little as possible, you can even reduce this further if you're wanting a less sweet version – I would try 1/3 cup) to sweeten the filling that is made of yogurt, and nothing but sweet heart-shaped fresh strawberries grace the top of the tart.  Charlie proclaimed on Instagram stories that it was the best thing he's ever eaten, and Max seemed equally pleased but between the mouth full of strawberries and his broken English he wasn't quite as articulate as his older brother.
Strawberries & Cream Sweet-Tart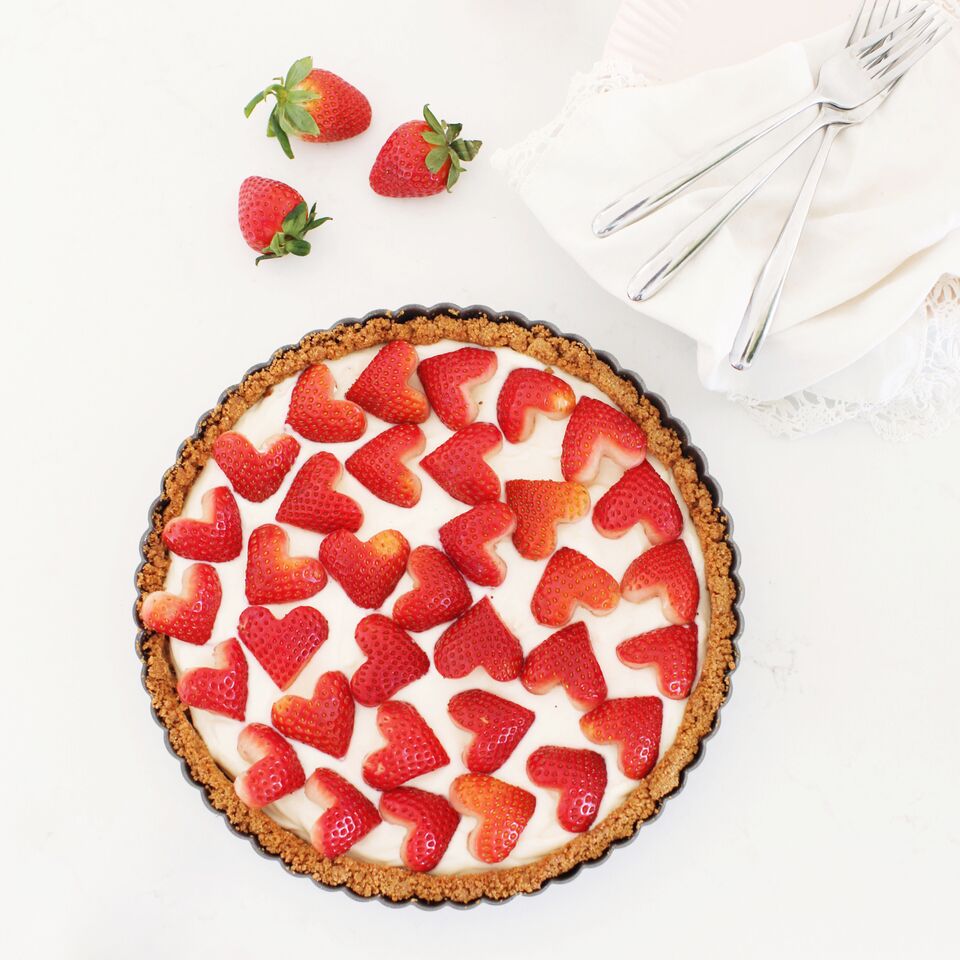 Strawberries & Cream Sweet-Tart
This Strawberries & Cream Sweet-Tart is creamy and over-the-top cute! Use a small heart-shaped cookie cutter to create the prettiest tart ever, just in time to wow your sweetheart for Valentine's Day!
Ingredients
YOGURT FILLING
4

cups

plain full-fat yogurt

2% or higher

1/2

cup

liquid honey

2

teaspoons

fresh lemon juice

1

teaspoon

lemon zest

1

teaspoon

vanilla
CRUST
1 1/4

cup

graham cracker crumbs

2

tablespoons

sugar

1/2

teaspoon

cinnamon

1/8

teaspoon

salt

1/3

cup

melted butter

(or coconut oil or vegan butter)

12

large strawberries
Instructions
MAKE THE YOGURT FILLING (OR THE VEGAN ALTERNATE BELOW)
1-2 days in advance, place the yogurt in a small colander lined with paper towel or cheesecloth, place the colander in a larger bowl, refrigerate, and let it drain. The longer you leave it the thicker it will get.

Once drained, discard any of the liquid in the bottom of the bowl and transfer the yogurt to a medium mixing bowl. Add the honey, lemon juice, lemon zest and vanilla and stir or beat until smooth and combined.
MAKE THE CRUST
Preheat the oven to 350F and lightly spray or brush a shallow 9" tart pan with cooking spray or oil. In a medium bowl, combine all of the crust ingredients together and stir until mixed.

Transfer the crust mixture to the prepared pan and, using a drinking glass with a straight edge at the bottom (not rounded), lightly and evenly pack the crust along the sides and bottom of the pan.

Bake the crust until it is just a light golden brown, about 12 minutes. Set aside to cool.
MAKE THE STRAWBERRY HEARTS
To make the strawberry hearts, cut each of the strawberries in half length ways and place the strawberries cut side down on a cutting board. Using a small heart-shaped cooking cutter, cut hearts out of each berry half and set aside. Reserve the strawberry scraps for your next smoothie!
ASSEMBLE THE TART
To assemble the tart, carefully spoon the yogurt mixture into the cooled tart crust and smooth it with the back of a large spoon. Top the filling with the heart-shaped berries and refrigerate until ready to serve.
Dairy- Free Cream Pie Filling
Dairy-Free Cream Pie Filling
This vegan cream pie filling will rival any regular cream filling and is amazing nestled into your favourite crust and topped with fresh seasonal fruit. Be sure to use full fat canned coconut milk as the recipe doesn't work with lite coconut milk!
Ingredients
5

tablespoons

cornstarch*

3

cups

canned full-fat coconut milk

1/3

cup

maple syrup or sugar

2

teaspoons

pure vanilla extract

pinch

salt
Instructions
In a small bowl or cup combine the cornstarch with ½ cup of the coconut milk: whisk until no lumps remain. Add the remaining coconut milk, maple syrup or sugar and salt while whisking.

Place the saucepan over medium heat and cook, bringing the mixture to a boil, stirring constantly with a whisk. Cook for 1 minute (to cook the starch and thicken the mixture), whisk in the vanilla and remove from the heat.

Pour the hot filling into the crust and let it cool, uncovered, for about 30 minutes. Once slightly cooled, loosely cover with plastic wrap and refrigerate for at least 2-3 hours or overnight before serving. Arrange the fruit on top of the tart before serving.
Recipe Notes
*reduce corn starch to 4 tablespoons (1/4 cup) if you want a less firm filling.