Growing up in the 80's, Rice Krispies Squares were a childhood staple in the treat department.  The funny thing is, they are the most simple thing to make, and are ALWAYS a crowd favourite.
I tend to go a bit nuts in the baking department when we have our big family get-togethers, and love trying new dessert recipes.  But the fact remains that the Rice Krispies Squares are the first to get gobbled up without exception.
Of course, the original recipe calls for butter and regular marshmallows, which is a bit of a roadblock for anybody wanting to adopt a vegan diet or simply eat more plant-based foods with fewer animal ingredients in a given recipe.  These squares were very easy to convert to a vegan option at the request of my sweet cousin Jillian Harris who has done a stellar job of making some impressive changes to the way she eats to adopt a plant-based diet!  You can buy vegan margarine (Earth Balance is a good vegan option) and marshmallows (made without gelatin) at Nature's Fare Markets.  I used Dandie's Marshmallows which are also gluten-free (you can buy gluten-free rice cereal to make this a gluten-free treat as well if you are on a gluten-restricted diet).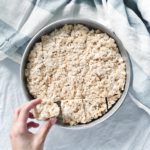 Vegan Rice Krispie Squares
Ingredients
3

tablespoon

vegan soft margarine

40

large vegan marshmallows

1

teaspoon

vanilla

5 1/2

cup

Rice Krispies cereal
Instructions
Grease a 9×13″ baking pan with margarine or oil.

In a large saucepan over low heat, melt the butter. Add the marshmallows and continue to cook over low heat, stirring until the marshmallows are melted. Add the vanilla and stir.

Add the cereal and stir to combine.

Using a rubber spatula, spread the mixture in the prepared pan and pat down with your hands to flatten (apply some oil or water to your hands first to prevent it from sticking).

Set aside to cool before digging in!