Fall is slipping away but that doesn't mean I'm not still baking up a storm with the last of those special fall ingredients. And what better way to end off fall than with this simple Apple Galette?
Galettes sounds much more complicated than they actually are, especially when you use a pre-made dough like in this recipe! You'll feel like Martha Stewart pulling this out of the oven and your family will be putty in your hands. The boys absolutely loved this dessert, so much in fact that they asked for it for breakfast.  So surprising, right?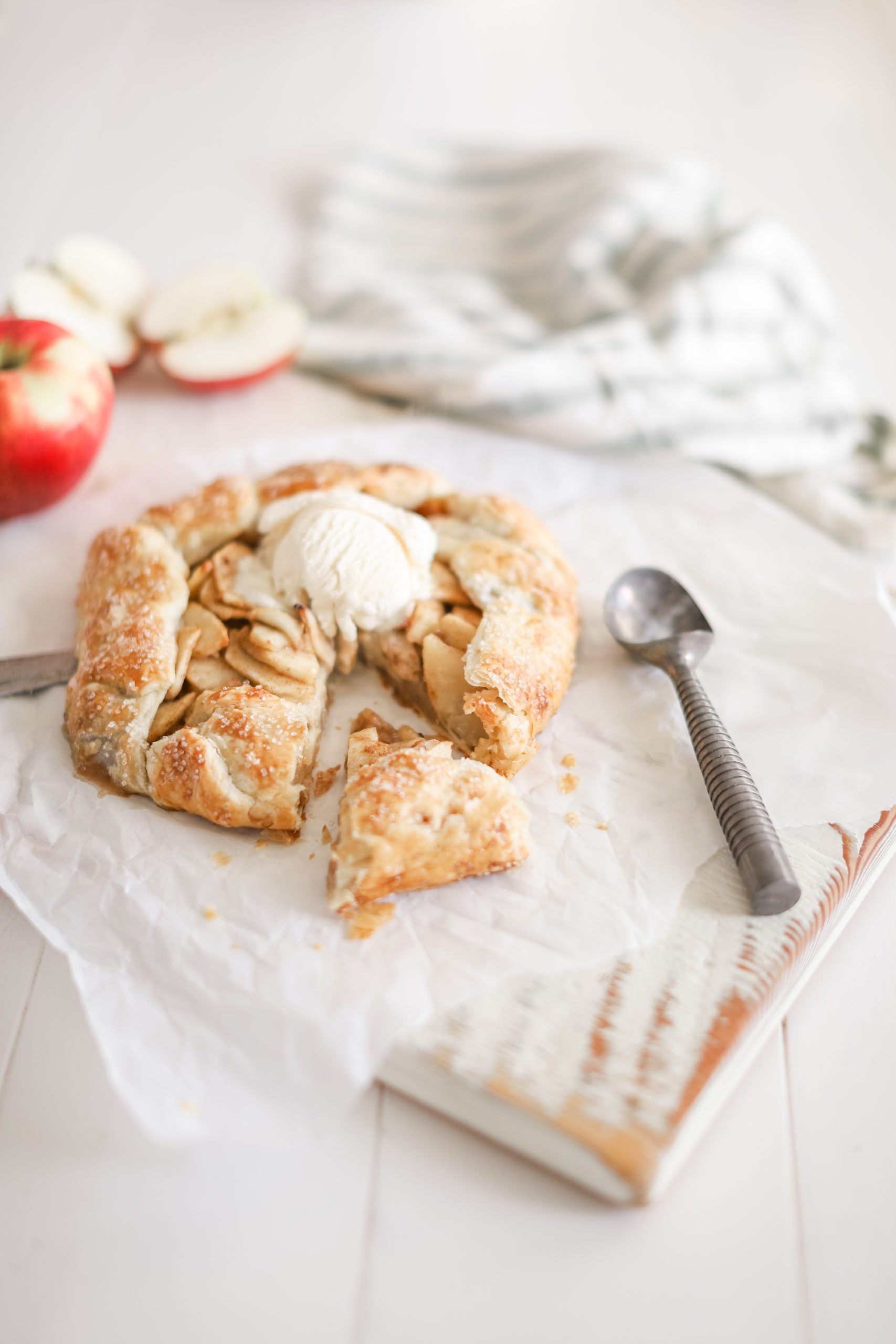 What is a Galette?
A Galette is a classic French dessert.  Simply put, it's a flat round cake or pastry with some sort of filling. Think of it as kind of like a rustic pie. There are so many different variations but my favourite is this simple apple galette. I cut a couple corners by using a pre-made puff pastry here but you can make your own if desired! If you're looking for a recipe to make your own dough this one (just cut it in half as the recipe makes a double batch). You can make galettes with a variety of different fillings so once you're comfortable with this recipe you can try other fruits as well!
Tips to a Perfect Galette
When making your galette you want to ensure you have cold dough and that you handle your dough as little as possible.  If you're using puff pastry make sure that you follow the instructions for thawing the pastry.  I like to buy the puff pastry that is already rolled out (one less thing to do).  It comes in a double pack, so simply double this filling recipe if you want to make two galettes of course.
Similar to other pie doughs or pastry, over handling or letting the dough get too warm will melt the butter or shortening and leave you with a less flaky crust. Because of this you'll also want to ensure your oven is preheated before you start.
For this particular galette you want to make sure that your apples are very thinly sliced to allow them to cook all the way through and soften!
What Types of Apples to Use
When choosing what type of apples to use you want to choose one that will stay slightly firm. This will prevent you from having a mushy filling in your Galette! Granny Smith, Ambrosia or Gala apples (or a mix!) are a safe bet to use here. Note, a Granny Smith apple will be slightly more tart and less sweet in your Galette. This page from BC Tree Fruits is handy to bookmark and has details on most apple varieties! If you've got an abundance of apples I've also rounded up all my favourite apple recipes here.
Apple Galette
Simple Apple Galette
This apple Galette is simple to put together and is so delicious!
Ingredients
4

cups

peeled, cored and thinly sliced apples

(about 1 lb peeled and cored)

1/3

cup

brown sugar

1

tablespoon

flour

1/2

teaspoon

cinnamon

pinch

salt

1 1/2

teaspoons

lemon juice

1

tablespoon

cold butter, cut into small cubes

1

sheet

puff pastry, rolled

(225 grams)

1

egg, well beaten

(optional)

1

tablespoon

coarse sugar

(optional)
Instructions
Thaw the puff pastry according to the package instructions.

Preheat the oven to 400F.

In a medium bowl combine the apples, brown sugar, flour, cinnamon, salt and lemon juice and stir to combine.

Roll out the pastry (if it's not already rolled out) on a large sheet of parchment paper to around a 12" square (it doesn't have to be perfect). Transfer the pastry to the baking sheet and pile the apple mixture in the centre of the pastry, add the cold butter on top of the apples and fold up the sides of the pastry to half cover the apples, folding it slightly over each layer.

Using a pastry brush, lightly brush the pastry with the beaten egg (you won't use all of it) and sprinkle the pastry with the sugar. Bake until golden brown, around 30 minutes and serve with ice cream if desired.