Day 3 of the 5 Day Smoothie Challenge here we go! Today's drink is a vibrant Berry Spinach Smoothie, full of healthy greens, anti-oxidant rich fruits, creamy Greek yogurt and milk.
Hello purple smoothie, nice to see you! This berry smoothie is easy, simple but nutrient dense. It gets its colour from frozen mixed berries (I used a strawberry and blueberry medley) but will work with whatever combo you have! Adding spinach is a great added benefit, and gives us some healthy greens.
What frozen berries to use for a smoothie?
In this recipe, I used a medley of whole frozen strawberries and blueberries! But to be honest, no berries are off limits here. You can use your own frozen fruits and even just keep them whole as they work to add thickness to your smoothie and make it nice and frosty! Cherries, raspberries, blackberries or even a tropical medley with berries and pineapple would be great in this recipe too!  Berries are rich in disease-fighting antioxidants, fibre and vitamin C and are lower in calories.

Is Greek yogurt healthier?
Greek yogurt is a great choice for smoothies because of its rich and creamy texture and it is also higher in protein vs other yogurts! It is also rich in calcium, nutrients, and contains lots of probiotic cultures that strengthen the digestive tract.  If you don't want to use Greek yogurt just choose any other yogurt or a non-dairy yogurt… there are so many on the market!
Ways to use frozen fruit
Bags of frozen fruits at the store are plentiful, but I also always recommend making your own when in season! For me, that looks like local Okanagan cherries and other berries near the end of the season to be used later on. If you see something wasting away in your fruit bowl, consider freezing!  Simply place any fruit on a baking sheet, freeze, and place in a resealable bag or container to be used at a later date.
Frozen fruits are great to have on hand and can be used in many diverse ways. I have a yummy Raspberry Blender Frozen Yogurt  that is simple and super satisfying. You can also use them when baking when fresh fruits aren't available like my Strawberry Rhubarb Bars. You can also use them thawed as the base for your own homemade sauce or jam. Having frozen bananas are GREAT because I seem to always have bananas to save from expiration, but also because they are dynamite in smoothies. Try my Banana Peanut Butter or Skinny Chocolate Frosty and you'll understand!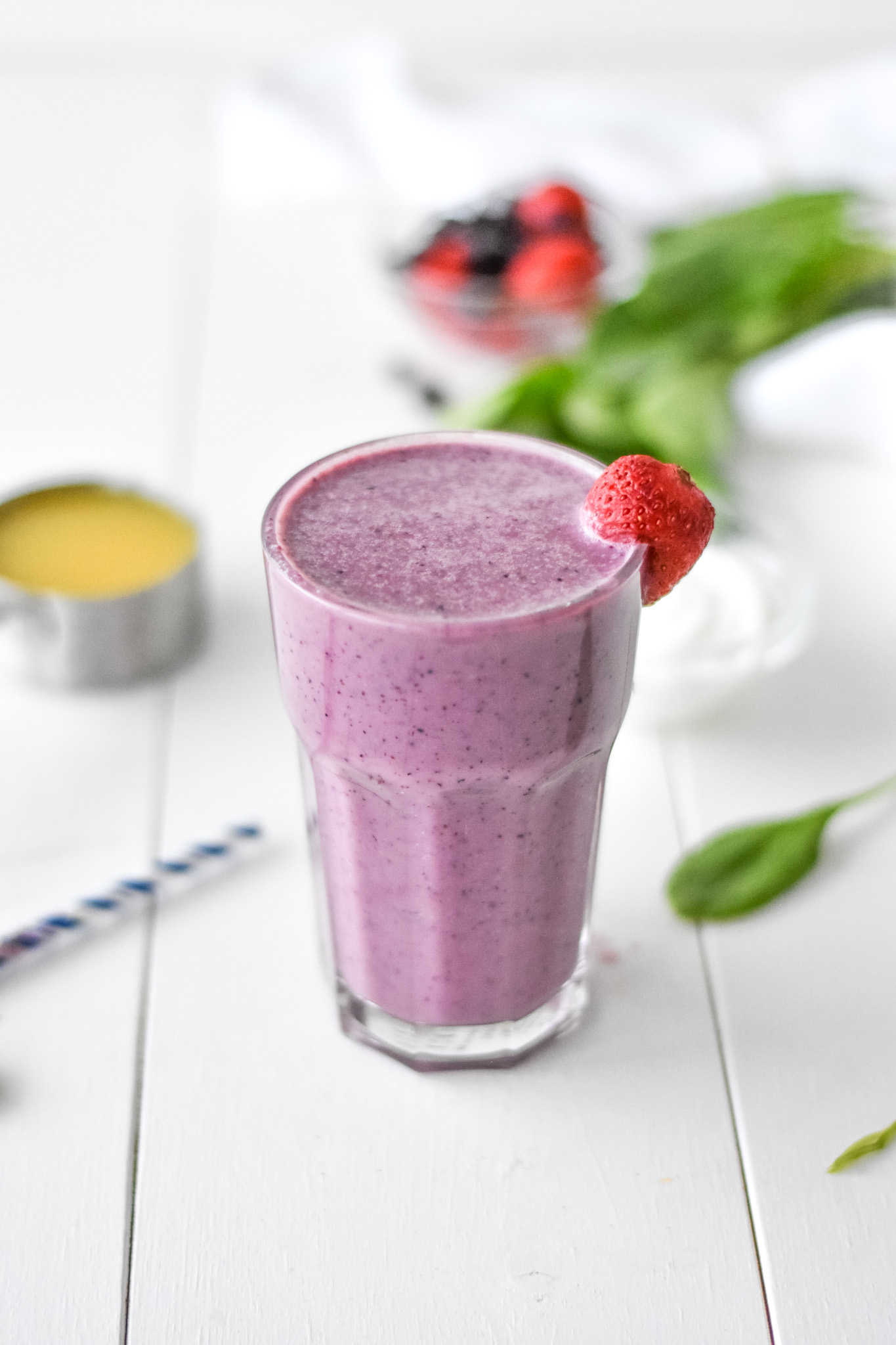 Berry Spinach Smoothie
Berry Spinach Smoothie
This Berry Spinach Smoothie packs a punch with healthy spinach, fruits, juice and creamy yogurt. Rich in antioxidants and will keep you feeling full and satisfied!
Ingredients
3/4

cup

mixed berries, frozen

1/2

cup

fresh spinach, packed

1/3

cup

vanilla Greek yogurt

(or plain)

1/4

cup

milk of choice

1/4

cup

orange juice

1/2

banana, frozen and cut into chunks

(or fresh)
Instructions
Blend all of the ingredients together until smooth and serve!