This easy (and photogenic) focaccia is such an impressive baking recipe to try! Channel your inner Bob Ross and top it with your favourite fresh seasonal veggies in a pattern or keep it simple with classic toppings like rosemary and flaky sea salt.
I haven't posted a true focaccia recipe on the blog and knew it was about time! Armed with a basket full of farm-fresh asparagus this past spring, I got a little creative. It's like Monet meets an Italian bakery kind of project.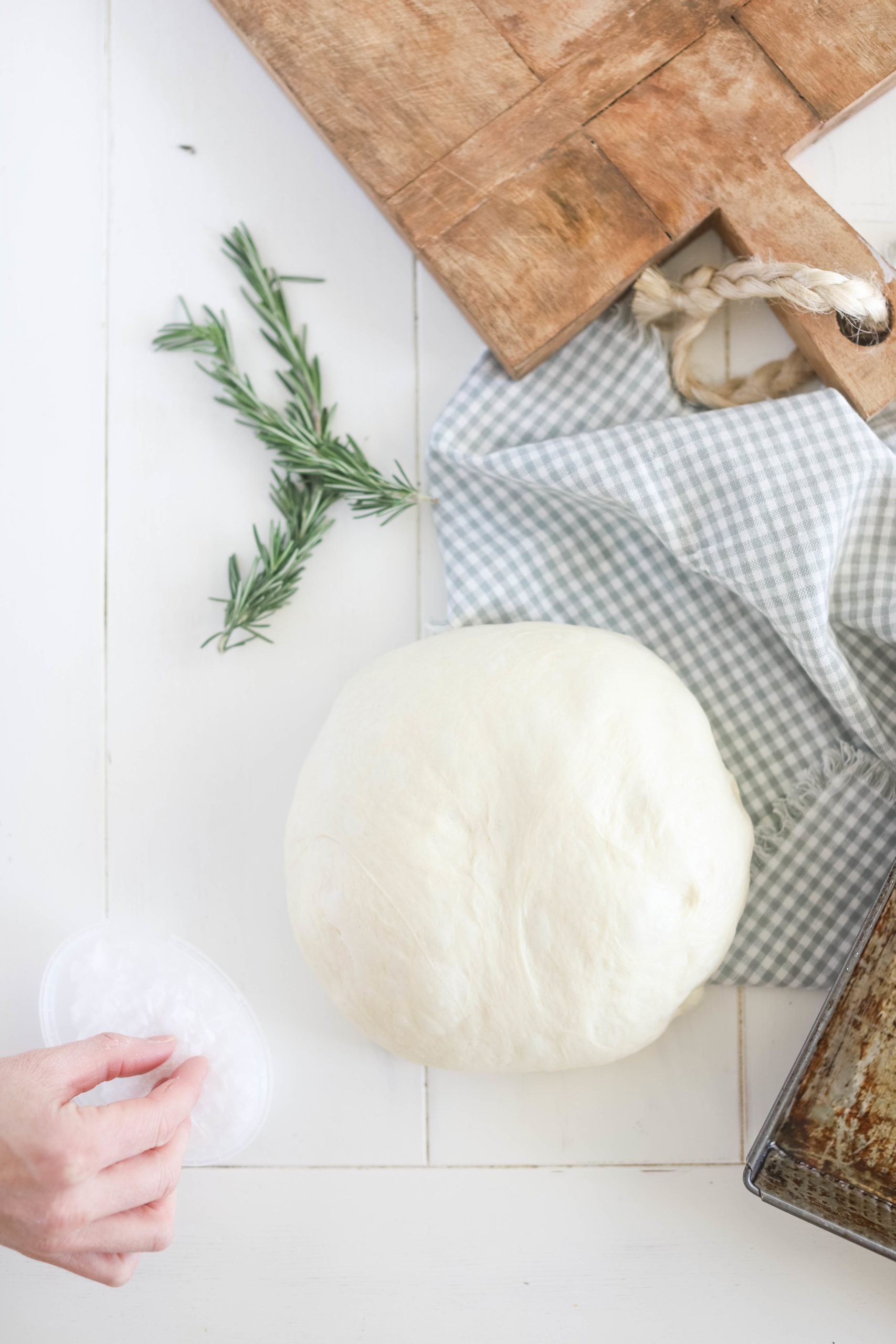 What is Focaccia
Focaccia (pronounced "fuh-KA-cha" ) is a yummy, Italian oven-baked flat bread. Baked in a sheet pan, it is usually flavoured with olive oil and (sometimes) topped with herbs and vegetables. When I think of focaccia I think back to my days waitressing at the Tomato Cafe. Fluffy, dreamy, delicate slabs of freshly baked focaccia were brought to each table.
This version reminds me of that same focaccia and is topped with chunky flakes of sea salt (my favourite!). It is total comfort food and MUCH easier to bake that it may seem.

Different Focaccia Variations
I'm convinced that there are very few things that wouldn't taste great here, but I've rounded up a few combinations that would be phenomenal!
Garlic
Add garlic whether it be on top or even integrated into the dough. Garlic mixed with olive oil? Yes please
Cheese
Parmesan, aged cheddar, asiago or feta would all be great here!
Jalapeños
If you love little pop of spice, jarred jalapeño on top (and a dash of sharp cheese) would be divine!
Fresh Vegetables
Place seasonal veggies on top like: asparagus, tomatoes, scallions, tomatoes and more and have fun creating a pattern!
Fresh or Dry Herbs
There is nothing wrong with a classic rosemary focaccia! But thyme, oregano or basil are all great choices too.
How to Make a Spring Focaccia
Isn't it stunning?! This Spring Focaccia (a.k.a my masterpiece) uses fresh asparagus, baby tomatoes, chives, thyme and flaked sea salt (I use Maldon). I placed the veggies and herbs into the dough just prior to baking after proofing the dough. Have fun here and get creative!
What to Serve with Focaccia
Focaccia is perfect to serve alongside soups, pastas, or used as bread for a sandwich. It can be cut into a variety of shapes like squares, long slices, or triangles. Honestly though, this recipe can be enjoyed on it's own, or dipped into a olive oil and balsamic.
Try either of these focaccia variations with my Roasted Tomato Soup or Chicken Cacciatore, both have flavourful sauce, great for soaking up with the bread!! YUM!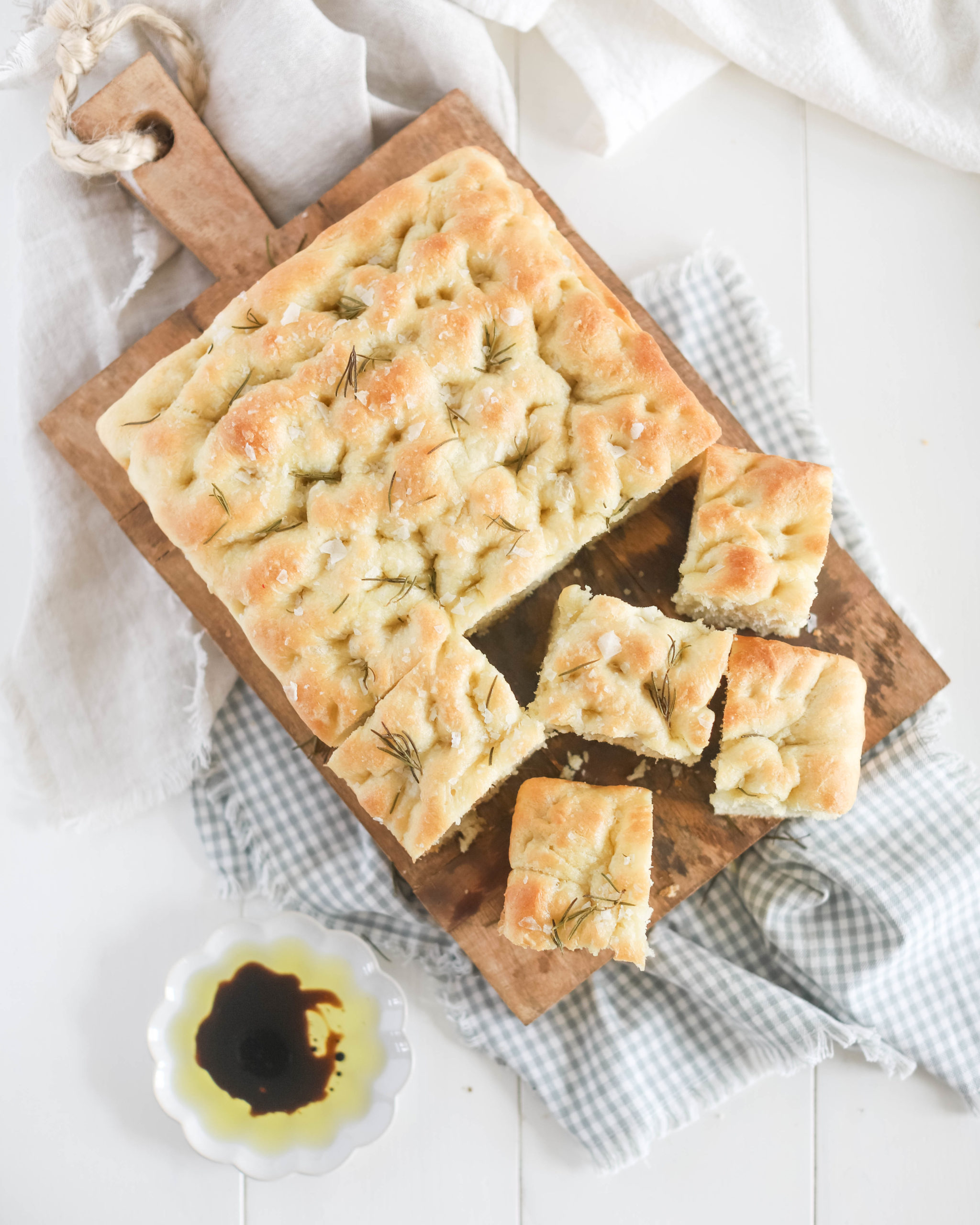 Focaccia Bread
Focaccia Bread
This is a super impressive treat to serve all-year round, you'll think you stepped into a bakery! This deep dish version would make a killer sandwich base… just saying!
Ingredients
1 1/2

cups

lukewarm water

1

tablespoon

sugar

1

tablespoon

active dry yeast

1/2

cup

extra virgin olive oil

(divided)

1 1/2

teaspoons

sea salt

3 1/4-1/2

cups

all-purpose flour

2

tablespoons

chopped fresh rosemary

1-2

teaspoons

flaked sea salt

(I used Maldon)
Instructions
In a large mixing bowl, stir together the lukewarm water (100 F) and sugar until the sugar dissolves. Sprinkle in the yeast, stir and let it sit until the yeast starts to ferment, for approximately 5-10 minutes.

Stir the yeast mixture and add the salt, 1/4 cup of olive oil, and 3 cups of the flour. Stir together with a wooden spoon and transfer to a well-floured flat surface. Knead, pushing the dough using the palms of your hands, for approximately 5 minutes, until the dough looks smooth and stretchy, adding more flour as needed if the dough becomes too sticky. The goal is to have a dough that is stretchy, soft and smooth.

Place the ball of dough in a large bowl coated with olive oil, cover the bowl with a clean dish towel and place in a warm draft-free area until doubled, for about 1 hour.

Punch the dough down to deflate the dough.

Preheat the oven to 400 F and brush a 9×13" baking pan or dish with 2 tablespoons of olive oil.

Stretch the dough out with your hands to fit the baking pan, stretch using your hands to fit the pan, cover again with the dish towel and let it rise again until doubled, about 30 minutes.

Using your finger tips, poke multiple holes into the surface of the dough. Drizzle the top of the dough with the remaining 2 tablespoons of olive oil, sprinkle with the flaked sea salt and rosemary and bake for approximately 20 minutes, until golden brown. Cool slightly (brush with a bit of extra olive oil if desired at this point) and remove from the pan. Cut into pieces and serve!