I am so excited to help you kick off your Valentine's Day plans today with the FIRST Fraîche Table Series! This year-round series of posts was created as a way to help inspire you to do more of what makes my own heart sing: feed others and entertain in simple, (almost) effortless style.
Let's face it, entertaining isn't always a piece of cake.  And for the record, I would know!  I recall dinner parties when I was trying to ice a cake for a birthday party hot out of the oven as guests poured in the door (massive fail… of course) and others where I served food that the guests couldn't eat because I forgot to ask if they had dietary preferences (not uncomfortable at all lol). Sigh, learning the hard way is a valuable life lesson!
At any rate, I wanted to bring some of my favourite recipes together for you in this year-long series and offer you a full guide to hosting an epic dinner party that saves you from some of the headaches I've experienced!  From a printable menu, table-setting suggestions, time saving techniques, what to wear and a work-back schedule to help keep you on track (and not serving appetizers in your PJ's), we have you covered!  To me, there are few things in life as enjoyable as feeding my friends and family food that is hand made with love over nice wine and a simple beautiful table setting.
THE TABLE
To set table we used a soft pink stripe tablecloth (purchased from Homesense) layered with lace-trimmed cotton napkins, white dinner plates, mini white Staub cocottes, wine glasses, gold-rimmed champagne coupes and loads of fresh flowers from Bylands.  We chose a combination of spray roses, garden roses, wax flowers, seeded eucalyptus, silver dollar eucalyptus, white hydrangeas and anemones, all in white and pastel hues.  Watch out for the tutorial later this week on how to create your own similar table centre piece!
As far as entertaining goes, here are my top 3 pointers that I can share with you to help you look and feel like a pro:
Plan ahead. I've prepared a work-back schedule for this menu to help you tackle this specific menu, leaving little to do when your guests arrive (ideal).  I highly recommend trying out any new recipes in advance, or at least getting familiar with the recipe before the day arrives so there are no surprises.
Prepare and purchase anything you can in advance.  This includes setting the table, prepping dishes and picking out your outfit (don't be afraid to get dressed early – you can easily be cooking in front of your guests if pressed for time but it's another story to be in your PJ's when they arrive, right?).
Ask your guests.  Do they have food allergies or preferences?  There's nothing more awkward than cooking an amazing meal that your guests can't eat. Trust me.
SHOP TABLETOP

THE MENU
This Valentine's Menu was designed for 4 people but could easily be scaled down for 2 if you're looking for a more romantic vibe to your dinner!  We kept it light, beautiful, healthy and filled with dishes that can easily be prepared in advance.  We created two sample menus to print off (see the end of the post for the second more simple menu if that's more your jam): we recommend choosing the option to print 4 per page in your printer settings (choose 'copies per page – 4') and using a thicker paper stock when printing to make the menus fit nicely on the place settings.
The menu below highlights dishes that are easy to prepare in advance, not too heavy (it's Valentine's Day after all), and bursting with flavours that all work together to create an extraordinary meal.  The menu starts with Smoked Salmon Mini Quiches followed by a healthy Creamy Roasted Tomato Pepper Soup and an entree that can be completely prepared in advance, Fish en Papillote.  The grand finale is a light and completely adorable Strawberry Sweet-tart (again, 100% made in advance).
SHOP KITCHEN ESSENTIALS

Appetizer: Mini Smoked Salmon Quiches
Suggested Wine Pairing: Chardonnay
First Course: Roasted Tomato Pepper Soup with Heart Shaped Croutons
Suggested Wine Pairing: Pinot Gris
Main Course: Fish en Papillote
Suggested Wine Pairing: Pinot Gris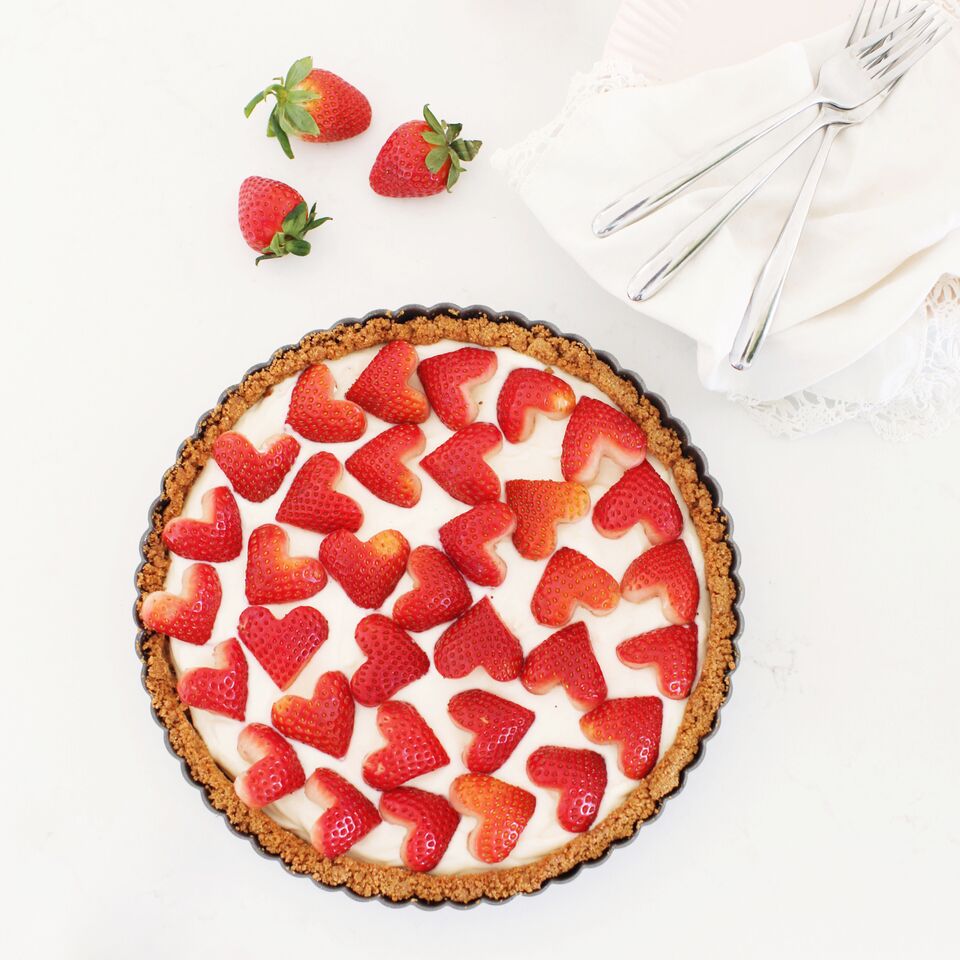 Dessert: Strawberries & Cream Sweet-tart
Serve with tea or coffee
SHOP HOSTESS LOOKS

THE HOSTESS SCHEDULE
TWO DAYS BEFORE: 
Buy Flowers (we buy ours from Byland's)
Pick out wine (we used Sandhill)
Grocery shopping
Strain yogurt (for the tart)
Iron linens
Pick out your outfit (fun!)
DAY BEFORE:
DAY OF :
Afternoon (2 hours before guests arrive)

Make Smoked Salmon Mini Quiches (served at room temperature)

place on a platter for serving
set out cocktail napkins & appetizer plates
Guests arrive:

Just before guests arrive, light candles.
Place tray of Fish en Papillote on the counter to bring to room temperature
Serve quiches
Heat soup & serve

preheat oven for fish before serving the soup

Bake Fish (once soup is nearly done): serve in packets on plates once finished
Serve tart with tea or coffee
Whether your Valentine's Day plans are big or small, I hope you have such a fun time celebrating what the world needs more of… LOVE!
xo
Tori