I am so fortunate to call Kelowna home and I get asked all the time where to go, what to eat and where to stay! I've rounded up a list of my favourite spots in this Kelowna Summer Travel Guide to make planning your trip here a little easier… and a lot more fun!
Kelowna is one of the best places to travel any time of year, but the summertime is by far the best! Kelowna is nestled in a valley filled with world class wineries, fresh local fruit and vegetables, epic restaurants, hiking, sandy beaches and some fabulous boutique shopping.
So without further delay, here is my mini Kelowna travel guide!
What to do in Kelowna
If you're looking for things to do with kids I recommend checking out this post 20 Fun Things to do with Kids in Kelowna. If you have a weekend away from the kids or don't have kids to worry about at all, I recommend a wine tour (see below for winery recommendations)! If you're venturing a bit further south, check out this post for the South Okanagan region or this post for something closer to Osoyoos.
You can rent a boat down by The Cove Lakeside Resort or in City Park at the Downtown Marina (and many other locations) for a day on the lake (keep your eyes peeled for Ogopogo)! Go hiking (try Knox Mountain, Kalamoir Park for fabulous views or Bear Creek Park for a stunning waterfall – pack a picnic to enjoy on the lake in the Bear Creek Provincial Park after!). Pritchard Park is our usual hangout with a great wharf for the kids to jump off of (on the West Side) or Gyro Beach is a hot hangout as well.
For a bit of exercise rent bikes from Kelowna Bike Rentals by the hour for something different! Moo-lix and Parlour are great places to grab an ice cream cone as you stroll the downtown area.
Visit the Okanagan Lavender and Herb Farm for a stunning botanical experience (I love it best at dusk)! It is so gorgeous, and they create the most beautiful sustainable products. You can also find them online here.
Where to Stay in Kelowna
There's so many choices of places to stay in Kelowna it can get a little overwhelming! The Cottages at Quail's Gate are a great option for groups up to 10 people. For somewhere close to the water I recommend the Delta Grand, the Manteo, or the Eldorado. The Eldorado also has a gorgeous patio looking out over at the lake and is an awesome spot to stop for a glass of wine or a martini! The Cove is on the West Side and has really nice lakeside accommodations with a beautiful pool area – their spa is really awesome too!
In the heart of downtown you can find Hotel Zed (super fun and budget friendly) and the Prestige Beach Hotel, both are a stone throw from the beach and action of downtown.
Where to Eat in Kelowna
The Kelowna restaurant scene has gotten SO GOOD. It's not often that Charles and I get out for a date night but when we do we love the Old Vines Restaurant at Quails Gate. We also love Raudz for fun, local cuisine, and The Terrace at Mission Hill. Curious has some of the very best pizza in town and wine and beer on tap – super casual.
OEB and Sunny's Modern Diner are perfect for brunch and The Bohemian Cafe is a local favourite: try the Mexican Omelette and don't miss the homemade toast with jam. Krafty Kitchen & Bar is a great spot for casual local eats and has a hip hop brunch! Little Hobo is a good choice for very casual eats (only open for breakfast and lunch Monday to Friday) and if you're looking for a vegan spot look no further than the Naked Cafe or Frankie We Salut You.
Roma Nord is a family-owned and operated Italian restaurant, that has quickly become a local legend. New to Kelowna, they offer a delightful array of fresh and authentic cuisine, including pizza, pasta, tiramisu, and gelato. I can't recommend this place enough (it has a welcoming laid back feel) and encourage you to make reservations to secure a table!
BNA Brewing is one of the most popular spots in Kelowna and for good reason. They have a great menu but also have a bowling alley, bocce ball, and old arcade games! Next door in their tasting room they recently opened a casual Burger Bar – perfect for laid back summer vibes. Kelowna Beer Institute is a good spot for a date night with craft beers and a wide selection of board games. Oh yes, Vice and Virtue and Red Bird Brewing (amazing recent renovations!) are a must for beer lovers!
Check out Central Kitchen and Bar if casual fare is up your alley, or for a very unique Western saloon experience check out The Hatching Post on the West Side. Red Bird Brewing has a fabulous outdoor space and King Taps is a great spot for view of the lake, and a "there's something for everyone" type menu. Oak + Cru in the Delta Grand Hotel has a great happy hour and an awesome patio that couldn't get more lakefront if it tried! If you're looking for great tacos and margaritas (try the spicy coconut marg!) then Cantina Del Centro is your spot!
Oh my gosh I could write a book on this topic….
Where to Get Coffee in Kelowna
As a mom, coffee is kind of a big deal to me. Sprout Bread Shop is our place to go when we have team meetings; the coffee is good and so is their baking (don't leave without a loaf of bread – you can thank me later … the sourdough, croissants, focaccia and table loaf are top notch)!
Bright & Jenny Coffee is located on the edge of downtown and has some of the best espresso, with beans they roast here in Kelowna. Karat Chocolate & Café is the French-inspired café of my dreams! They have incredible cakes, chocolates and macarons.
New this year is both Deville Coffee on Bernard (heart of the downtown) and Analog Coffee near the water (Sunset Drive) and they are both very Instagrammable and feature their own (delicious) beans.
Finally, Bean Scene is a Kelowna classic and a great place to relax with a cup of coffee or tea.
Wineries to Visit in Kelowna
It's hard to choose just a few wineries to choose as 'must visits' but Kitsch and Mission Hill both have an incredible view of the Okanagan. Mission Hill has an incredible Summer Concert Series that is one of my favourite parts of Okanagan summers. Sandhill is always on the top of my list – you seriously can't go wrong with ANY of their wines and they are conveniently located downtown (near some great breweries might I add!).
A Kelowna wine experience wouldn't be complete with a stop at Cedar Creek and a meal at their restaurant Home Block. Trust me, it's a world class experience!
The Hatch is a something a little different and so unique to check out! Vibrant Vine has some great stories behind their wines and labels and has a cool 3D experience. I've mentioned Quails Gate a few times but I seriously recommend it, their patio is probably my favourite place to be in the summer (you will see why if you go). Also Frind Winery has an epic beachfront setup where you can get pizza (and vino of course) and sit in the sand. Talk about Okanagan living!
Where to Shop in Kelowna
When I have the time to shop, I absolutely ADORE some of the small shops we have here in Kelowna. One of my favourite pieces of furniture in my house is my laundry room wooden cabinet and it's from Lakehouse Home Store! They have such gorgeous things for your kitchen and home. They recently even expanded their store to be even bigger! I highly recommend stopping by. Same goes for Olive & Elle, a cute boutique for homewares as well. Oh and don't forget to stop at Alchemy.
For clothing I recommend checking out: Fossello's, Frakas, Boheme Collective, Okanagan Lifestyle or Man+Woman.
Where to Get Groceries & Produce in Kelowna
Being a food blogger, I get asked a lot where the best place is to buy a few healthy groceries or where the best produce is in Kelowna. The Kelowna's Farmers Market is a one stop shop on Wednesday's and Saturday's for local produce, sustainably sourced meats and cheeses, clothes, jewelry and more.
If the market isn't going on I'd stop by Nature's Fare, Urban Fare, or Choices to grab a few things or a quick picnic lunch. For fresh produce Paynter's U-Pick is always a great time with the kids – they even have picnic tables and ice cream for the kids (big and small:).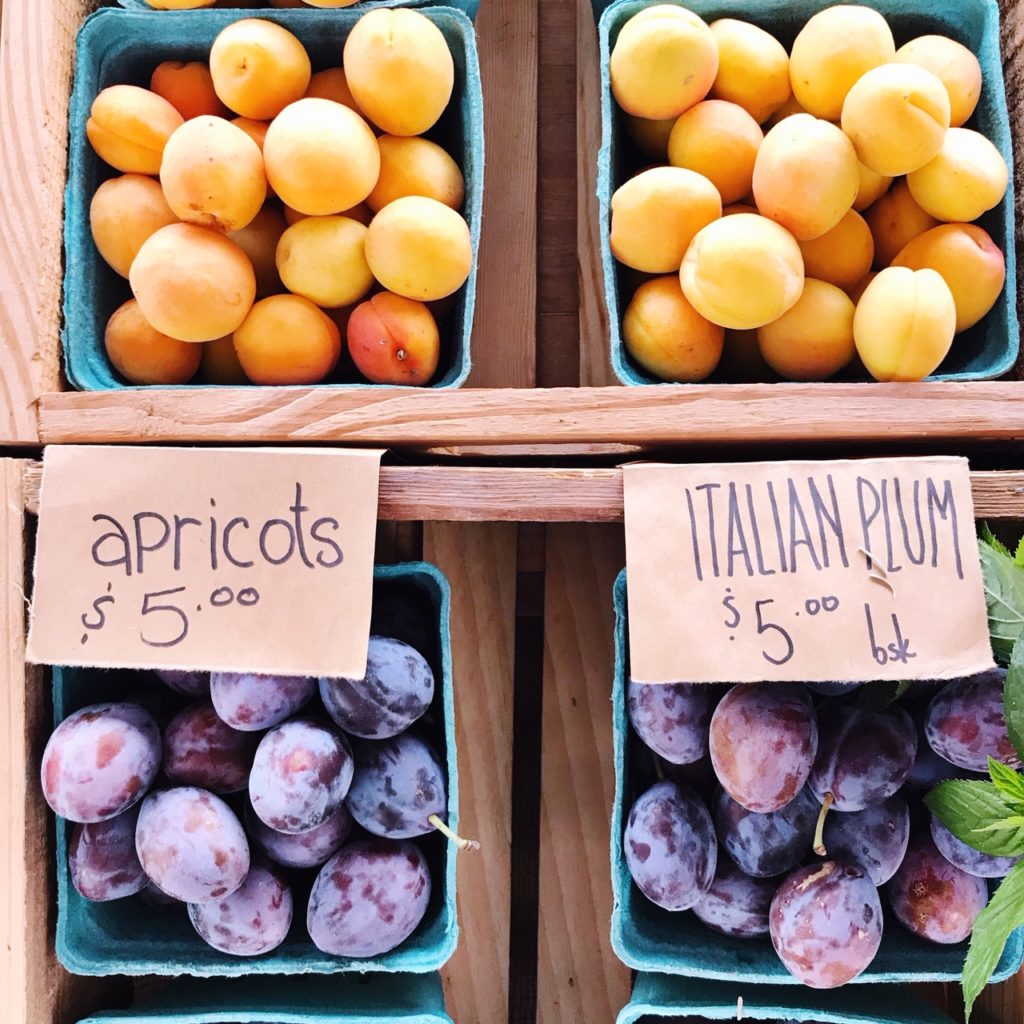 If you give any of these places a try or if I missed anything let me know in a comment below!
xo,
Tori