As you may know if you follow along with me on Instagram, Max was admitted to the hospital last Tuesday night with a bad case of pneumonia.   As any parent can attest to, there is nothing worse than seeing your child get sick.  Four days later we were still sitting in an isolation room on the paediatric ward praying for a discharge so that we could celebrate the Easter weekend together at home.  Like many parents I'm sure, I came in totally unprepared not thinking we would be admitted! So, here are some tips from the trenches with you in case you ever have a child that needs to stay at the hospital.
First thing's first, I want to talk about Mommy intuition. Max has had a cough that has been punctuated by many fevers and runny noses for FOUR MONTHS.  I have been to the doctor four separate times with concerns over his health and each time it was chalked up to a regular virus and to just let it run it's course which was valid, he is in daycare and has a sibling and has likely contracted a number of different viruses back to back. They discovered an ear infection during our second-to-last visit and started him on a course of antibiotics. It seemed to help, but as soon as it was done it came back with a vengeance, I'm not sure if it was a new infection or just the old one that hadn't been kicked.  Poor little Max was coughing even worse than before, had a fever (39.6 C), was lethargic and his eyes and nose were caked with bright green gunk (sorry for the gory details but some of you asked about his symptoms as you were worried about your own kids, so here they are).  The doctor at the walk in clinic said it was probably a good idea to go to the hospital so off he and I went at 6pm.  Five hours and a long-overdue chest x-ray later they diagnosed him with bilateral (both sides) pneumonia and admitted him.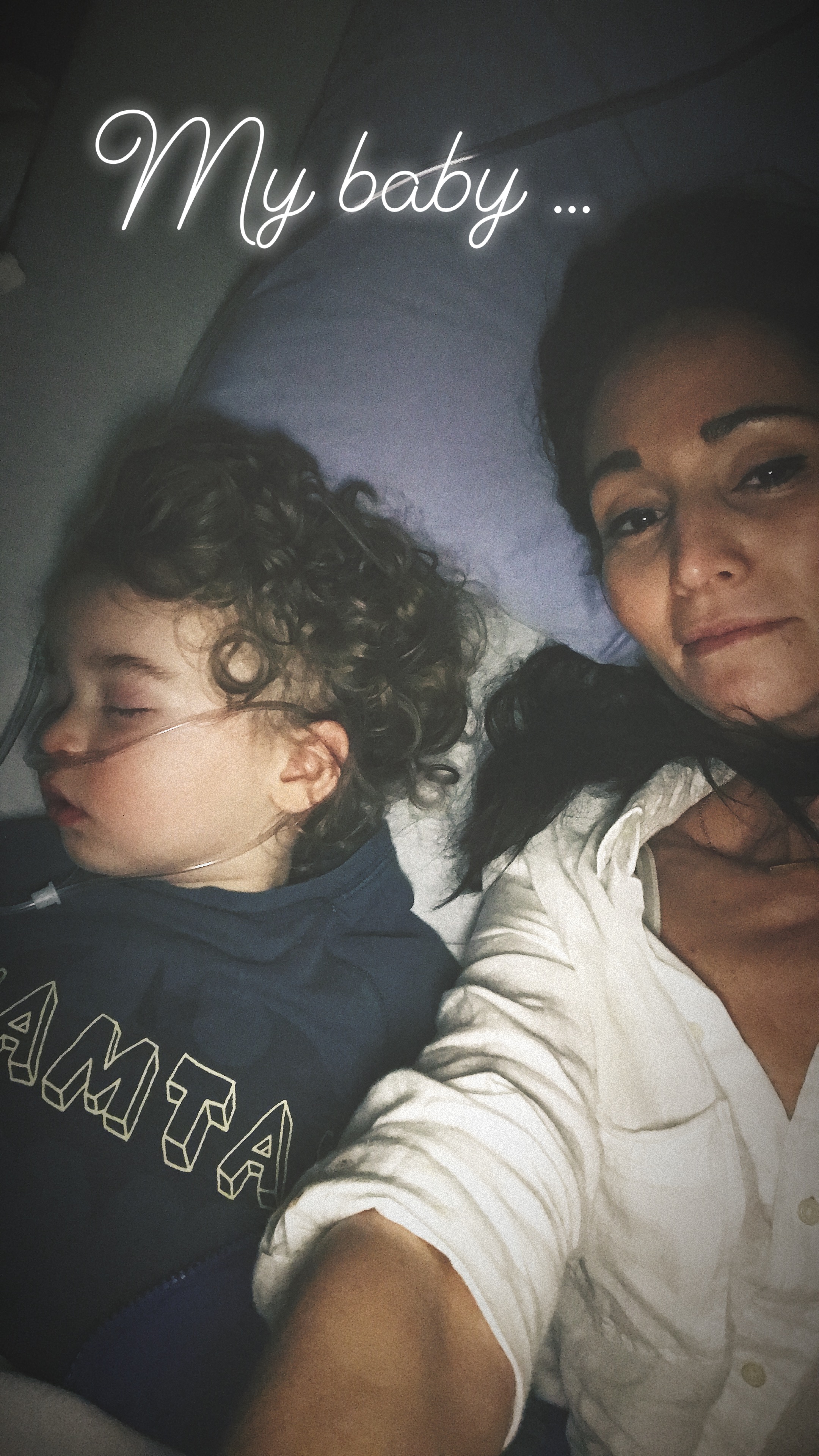 We are so fortunate to have caught it and are grateful that we received the care we did.  I had no idea that pneumonia is so prevalent and can be fatal.  My only wish is that I had asked for a chest x-ray sooner as I feel that this could have been caught and addressed much earlier if we had (they never did hear chest sounds with the stethoscope in the doctor office even when he did have pneumonia), though I know it's hard to say when the pneumonia developed? Regardless, if you really feel that something isn't right with your child (or yourself) please push a little!  I wish I had in the off-chance that it would have been caught sooner. I can't say enough how much respect I have for doctors so this is in no way a question of their ability or clinical judgement (they were all wonderful), but when you spend all of your time with your little human sometimes you see things that may go unnoticed at a doctor appointment.
Pneumonia is one of the leading causes of childhood death worldwide (more in developing countries vs developed countries) so it isn't to be taken lightly.  Here is a link to some signs and symptoms of pneumonia in case you're worried about your little one and OF COURSE see a doctor if you're concerned, this is in no way meant to serve as a diagnosis but rather some signs and symptoms to watch for can be found here.
Of course being locked up in a dark small hospital room with a 19 month old comes with its challenges. For the first couple of days all that Max did was sleep (on me…I'll admit I loved the cuddles), but the last couple of days were nearly impossible, all the poor little guy wanted to do was go outside!  Max is such an energetic kid. I can't imagine what it is like being a parent of a child who is chronically ill and in the hospital for a long time, my heart literally breaks for you if that describes any of your situtations.  It's so tough on the kids but also a serious grind for the parents!
Here are my suggestions if you ever find yourself in this position to help make the best out of the situation:
Ask for help.  I'm TERRIBLE at this.  So do as I say, not as I do lol.   People will offer to bring things like coffee and food and say YES every time!  They don't feed the parents in the hospital, just the kids, and when you are alone with your child you can't just walk down to the cafeteria and grab something to eat whenever you feel like it.  I was literally eating Jiffy peanut butter out of the packets at one point I was so hungry: sad and pathetic but true!  I was also so drained and emotional I wasn't up for visitors so that's my excuse.  While you're at it, get people to bring some healthy favourite foods for your child as there is a good chance that they won't eat what is on the hospital tray.
Be detailed with your wish list.  I asked Charles (my better half) to bring me a few things and he did…except it wasn't what I was after.  He managed to find THE most uncomfortable pair of underwear in my drawer (he scolded me for even having them in there, point taken), missed half of my toiletries, and neither of us thought of things like moisturizer or shampoo and conditioner.  I'll add it to Wunderlist next time (best list app ever by the way).  Below is the wish list I 'wish' I had made for him!
Get your visitors to text before they come.  There's nothing worse than FINALLY getting your baby to sleep and someone comes barreling in and wakes them up.  Which brings me to my next point.
Ask the medical team to consolidate tests, exams and visits whenever possible to minimize the screaming fits (no child likes to be poked and prodded) and ask if medication times and other interventions can be worked around your little one's nap schedule where possible.  It's not always doable but it's worth asking, the team at Kelowna General Hospital were really great about this and I so appreciated it!
Figure out the sleeping conditions early.  I knew that Max would likely sleep with me in the room which was confirmed when he wouldn't sleep in the crib even after I crawled in there with him (A for effort)!  It's a lot easier setting a game plan before bedtime than trying to deal with it when your child is over-tired and having a tantrum.  The team at Kelowna General Hospital was SO nice to provide a regular hospital bed vs the fold down chair that I would have otherwise used for a bed (we just had to sign a waiver), it really helped us both get a better sleep.
Ask for a stack of towels and wash cloths when you get there, you will go through a lot of them and they aren't always easy to track down!
Here is my recommended list for things to take to the hospital if you ever have to go with your little one(s):
slippers and socks for both you and your child
a warm sweater or sweatshirt for you and your child (it gets cold)
sound machine (a MUST): this is the one we use and it is amazing…and blocked out the crazy hospital noises that would have otherwise stopped Max from getting a good sleep.
a couple almost-favourite stuffies that can be thrown in the wash (Max through one in the toilet so it was nice to have a spare…ok not everyone's kid will be as sneaky!)
travel mug and sippy cup (better for the environment and much nicer to drink out of (I wish they didn't use styrofoam at the hospital)
nuts, dried fruit, granola bars, fruit and plenty of other healthy snacks for mom along with any favourite snacks for your child.
a few changes of clothes including comfy pants and extra PJ's: you never know when they will get dirty with a little one around. Don't forget a sweater it gets cold in there.
phone, laptop or iPad and chargers: you may even want to bring an extension cord if there isn't a plug in near the bed.  I'm not a fan of screen time but when a kid is sick and there's nothing else to do they are rather helpful!
toiletries including a brush, shampoo, conditioner, hair tie, moisturizer, makeup and a face spritzer (I won't lie I would have loved my tweezers too lol)
a few games and toys for the little ones. We were in isolation so brought a few things from home to help entertain Max as he couldn't use the ones in the play room. This way you know that the germs on the toys are your own too!
stroller if you are not in isolation so that you can get outside for fresh air (the hospital may let you have a pass to get outside, of course you need to ask your doctor)
SHOP THE POST

Thank you again to the wonderful staff at Kelowna General Hospital including Dr. Ranshod, Dr. Duncan and the sweet hard-working nurses for helping our little man get better!  Max is on the mend and a million times better than he was!  Do you have any tips to share?  If so please comment in the section below!