I've tried cutting and styling my hair in SO many ways over the years, but to be honest, I haven't really changed my hairstyle much in about a decade.  Call me a creature of habit!  To me there is something so timeless and romantic about long, loosely curled hair and of course I love the fact that I can throw it in a bun on those busy days (like… most days lately, haha!).  Curling your hair may seem really intuitive but there are a few tricks that I've learned through the years for getting it right.
One thing I've learned is that healthy hair holds curls better. I've been using the Gliss Ultra+ Moisture shampoo and conditioner so my hair is already soft, but anybody with long hair knows the challenges of dealing with split ends. Try the GLISS Oil Nutritive weightless oil treatment to soften dry ends before styling. Just spritz a bit into your hands and massage it into your ends. It's so light and not greasy at all; it absorbs fast, and you can feel a smoothing difference right away. Over time, this line can also help strengthen your hair and prevent breakage.  I've actually started using it on my damp or dry hair any time that I feel my ends need a bit of love!
Now, let's talk volume. If you tend to fall flat, try a boost at the roots.
  I'll be doing a blog post about hair drying to get the best volume very soon!  If you have thin hair or long hair that tends to lay flat with the weight, you may need a bit of a lift on top. The GLISS Extra Volume Lift-Up Spray could be your secret weapon. It lifts hair from the roots for natural volume and bounce, which is a great complement to your loose curls or waves.
Once your hair is dry you are ready to curl!  I use a 1 ¼" curling iron turned up as to a high heat level (almost as high as it will go), BUT I have very thick strands of hair that can withstand that level of heat.  Not everyone will use such a high curling iron setting, so find what works best for YOUR hair!  Having a heat setting that is too high for your hair may damage or burn your hair, so be sure to find your own hair's heat tolerance.
Step-by-Step: How to Curl Your Hair
Dry your hair to get it as straight as you can. Use the GLISS Extra Volume Lift-Up Spray on your roots at the top of your head to give an extra lift of volume before drying, if desired.
Spray a few spritzes of the GLISS Oil Nutritive weightless oil treatment on the ends of the hair (you can spray it into your hands first and massage it in).
Heat your curling iron to the desired setting.
Using a hair clip, take the top half of your hair and put it up to get it out of the way.
Take a small section of hair, pull it tight downwards, and place your curling iron 1" from the end of your hair and twist the curling iron upwards (holding the iron vertically) to curl the section of hair, stopping 1" from your root. I curl in the direction away from my face.
Hold the curling iron on the hair section for 5-10 seconds and release it slowly downwards to end of the hair section by releasing the grip on the iron just a little to finish off the curl at the end of the hair. This will give you a straighter finish at the end of your hair without causing extra damage to the ends of your hair.
Repeat with all of the remaining hair including the top section.
Using a hair pick or your fingers, lightly separate the curls with your hands.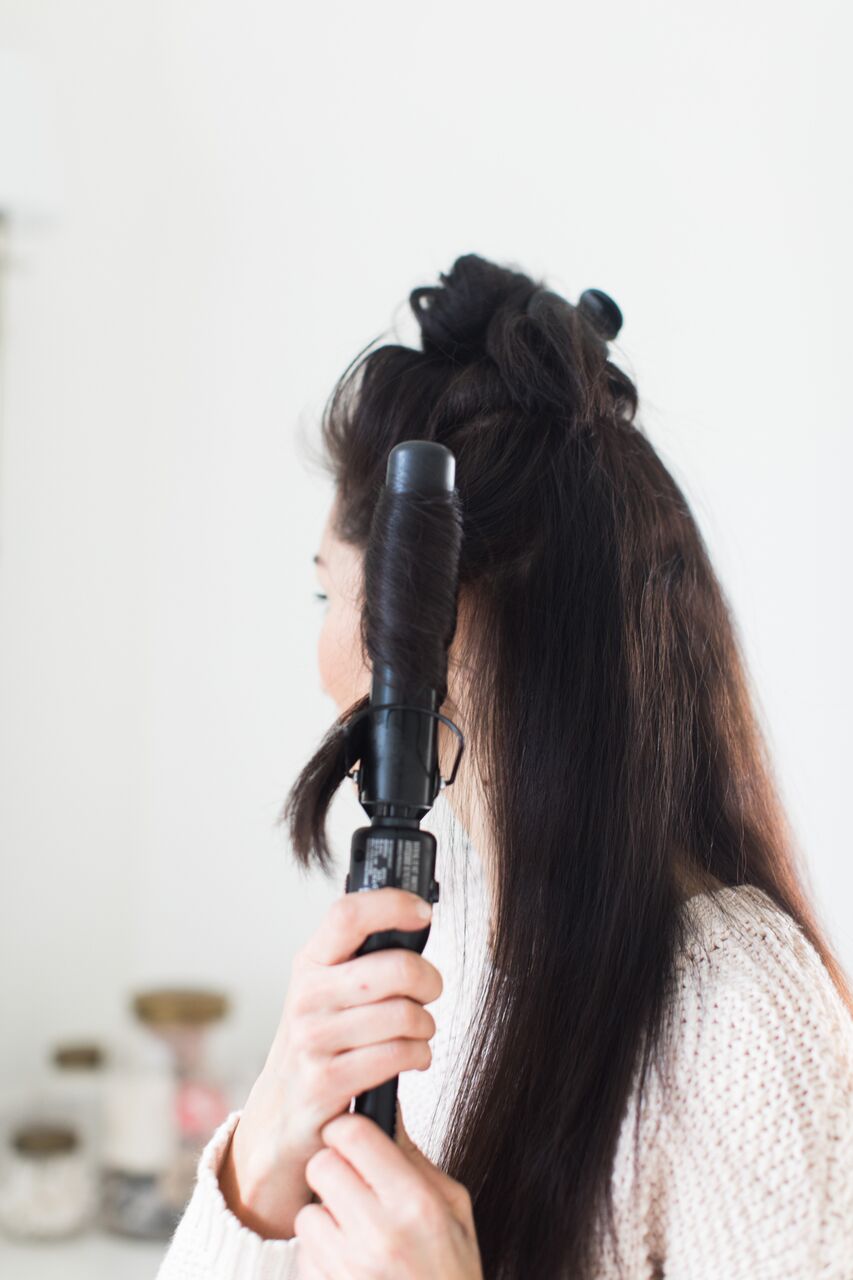 Of course, you'll want to keep your look all day (all that hard work can't go to waste!) When you're all finished, I recommend a hairspray that has firm hold but is not sticky. I like the got2b Glam Force hairspray to help keep loose curls longer without restricting movement, so it still looks and feels natural. Just a few spritzes…or maybe a few more if you'll be on the go all day (or night!). This is a great way to keep your hair looking like you just styled it and to prevent those curls from falling out.
I hope this helps!  Please feel free to comment in the comment section below if you have any questions!
This post is sponsored by Schwarzkopf. All opinions are my own.