If you've ever done a renovation you'll know just how painful it is to make decisions! We spent a year planning our kitchen renovation down to every little detail.  Here are the top 14 kitchen features that I LOVE and recommend if you're doing a kitchen renovation or build of your own!
There is no doubt about it, our kitchen is the heart of our house! Charles and I both love to cook and entertain and without fail, everyone gathers in the kitchen, right?  Of course I also work (and essentials live) in the kitchen as a food blogger, so wanted to make sure that no detail was missed.
Here are some pictures of our kitchen part way through the renovation.  There's nothing that will test a marriage more than a renovation!  We made it to the other side (whew)!  Grab a cup of coffee and cozy on up on the couch, this is a long one!
SHOP THE POST

Our hard work paid off… we LOVE the space!  I shared some of the sources in our Kitchen Reveal this summer but I wanted to dive a little deeper into the small details that make a difference to us and that I feel are worth the investment.  Here are the key elements that turned our kitchen from good to great along with a little video kitchen tour below!
Integrated Fridges
The first thing we absolutely love about our kitchen are the panelled integrated fridges (integrated is when they come without a face, and get covered with door panels instead). The big brass appliance handles from Emtek match the rest of our kitchen cup pulls and knobs and are something we adore! We have two Fisher & Paykel fridges with pull out freezers (I'll never go back to a freezer on the top).

Oversized Kitchen Island
Let's be honest, whenever people come over they ALWAYS hang out in the kitchen, right?  Knowing this, along with how open our space was, we wanted to make the island the  true centrepiece of our house.  We used quartz because of it's durability and colour and chose a thicker surface for the island (the counters are standard thickness) to make it stand out.  It was more expensive but a good move.  We went with the Silestone Eternal Statuario which has a light veining in it similar to marble but very soft.  I LOVE it!

Drawer Dishwashers
Also built into our island are stacking drawer dishwashers. They can operate independently so on the rare occasion I only have a few dishes to do, I can get one started! It's a really great feature.  Our dishwashers are from Fisher and Paykel as well and I recommend them.

Roll Out Garbage and Recycling Bins
I wanted to make sure that our garbage can and recycling was in a spot that was super convenient (ie: not under the sink).  We ended up working it into the kitchen island using a rollout system (again, Norelco's work), which was perfect! It is the spot where we do our prep, which makes clean up a breeze!


Farmhouse Sink
If given the option of a having a divider in your sink (vs one big sink), I 100% recommend it! We have one larger sink on the left with a smaller on the right which allows me to do things like wash dishes on one side and wash vegetables or drain pasta in the other. Our sink is from Kohler as is our Artifacts faucet (in polished nickel).

Roll Out Spice Racks
We cook A LOT, and my pet peeve has always been where do you keep those darned spices?  It's so nice to have the spices in a place where I can easily see them all, totally organized and at our fingertips for when we are cooking.  One thing to note: storing your spices next to a heat source (like we do) decreases the shelf life of the spices.  Norelco installed these as a part of our cabinet  install (they are amazing if you are looking to get new cabinets).

Knife Drawer
Good knives deserve a good home… but I've never been a fan of the knife blocks or the magnetic strip to 'hang' your knives on. Enter this knife drawer. Norelco sourced this for us and it is PERFECT. The drawer itself is a bit wider than an average cutlery drawer, leaving us space for the built in knife block and other sharp objects beside it.  HIGHLY recommend!

Pot Filler
I didn't think I would use our Kohler Artifacts pot filler as much as I do.  It's really awesome when you have a large pot to fill up that you don't want to wrestle over from the sink to the stove.  It's definitely something you need to plan ahead (plumbing), but we get a ton of use out of it!


Glass Cabinet Fronts
I waffled on whether to go with glass cabinets beside the stove or not.  At the very last minute I decided to go for it (they are more expensive), and I'm sooo happy I did!  The glass visually breaks up the space and gives me a place to display all of my white dishes (which we use on the daily).  They do need more regular cleaning given that they are beside the stove but I wouldn't change a thing. Norelco designed our cabinets and helped sooo much with the layout: our kitchen wouldn't be nearly the same without them, I love how detailed they were and they stand by their work.
Space Between the Island and Stove
Ok, this is something I NEVER would have thought of, but given how many builds and renovations Charles has done (he is a general contractor), he insisted that we put a 6′ space between the island (that houses our dishwashers) and the other side that has the stove to allow us more working space.  It was brilliant.  Zero traffic jams or issues with having the dishwasher and oven open at the same time.  Something to consider.
Deep Drawers and Roll Out Shelves
I wasn't sure what to do for bowl, pan and pot storage, so went with a combination of deep drawer storage (under the knife drawer) for mixing bowls and baking dishes and added in a separate cupboard to the left with roll out shelves to store pots and pans.  I think it works well!
Hiden Cupbards Under the Island
Ok, I think this feature is BRILLIANT.  It costs a bit more, but integrating storage into your island where it would otherwise just be dead space is so valuable, especially if you are already strapped for storage.  We have hidden cupboards where the stools sit that store rarely used items like the waffle maker, popcorn maker, tortilla press….  check out the video to see them.

Oversized Pendants & Mixed Metals
When our pendants arrived I kind of freaked out – they looked MASSIVE.  I contemplated sending them back but am so happy I didn't!  They frame the space and add to the look of mixed metals which I love!  I don't think there are any rules in this department, but I wanted to keep everything warm (ie: brass with polished nickel which is warmer than chrome).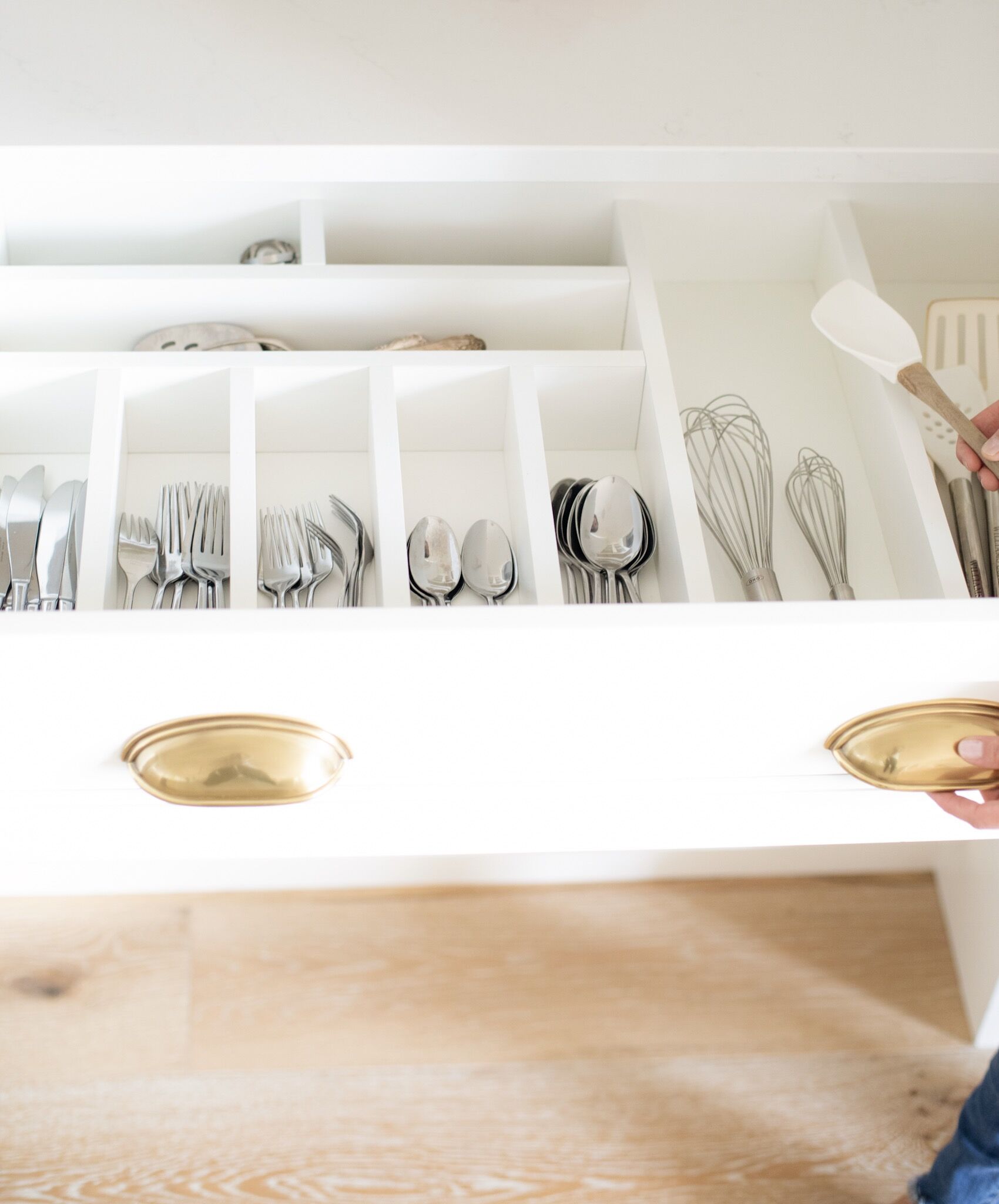 Built In Cutlery Drawer
Gone are those annoying cutlery drawer inserts that slide around and are never big enough to accommodate all the cutlery!  This simple design is where it's at – again, the handy work of Norelco!
Here's a video tour of our kitchen showing you all these spaces and design tricks that made the world of difference for us!
Some of the items referenced in this post were gifted to us for the purpose of the renovation.  All opinions are my own!