This no-fuss recipe for Rosemary Roasted Nuts is ready in 15 minutes and makes the perfect hostess gift or addition to the holiday appetizer spread this season!
I've been wanting to create this recipe for ages, and now that we whipped it together so easily I'm wondering what took me so darned long! We had SO MUCH rosemary in our garden this year (along with everything else – whatever Charles did to the soil was like fairy dust for the garden, it was crazy!).  With rosemary coming out of our ears I figured now was the time to get cracking and put this one together … finally!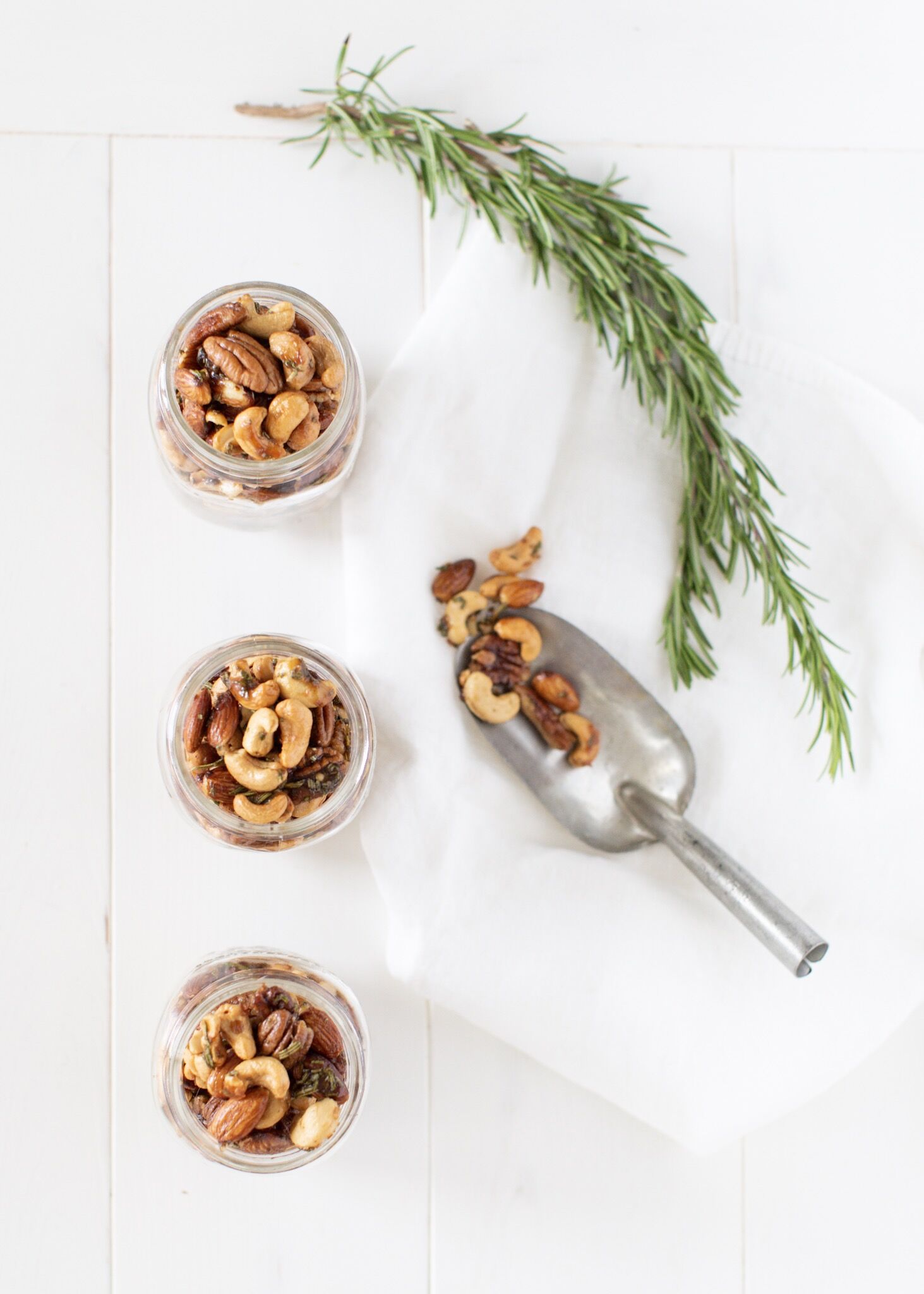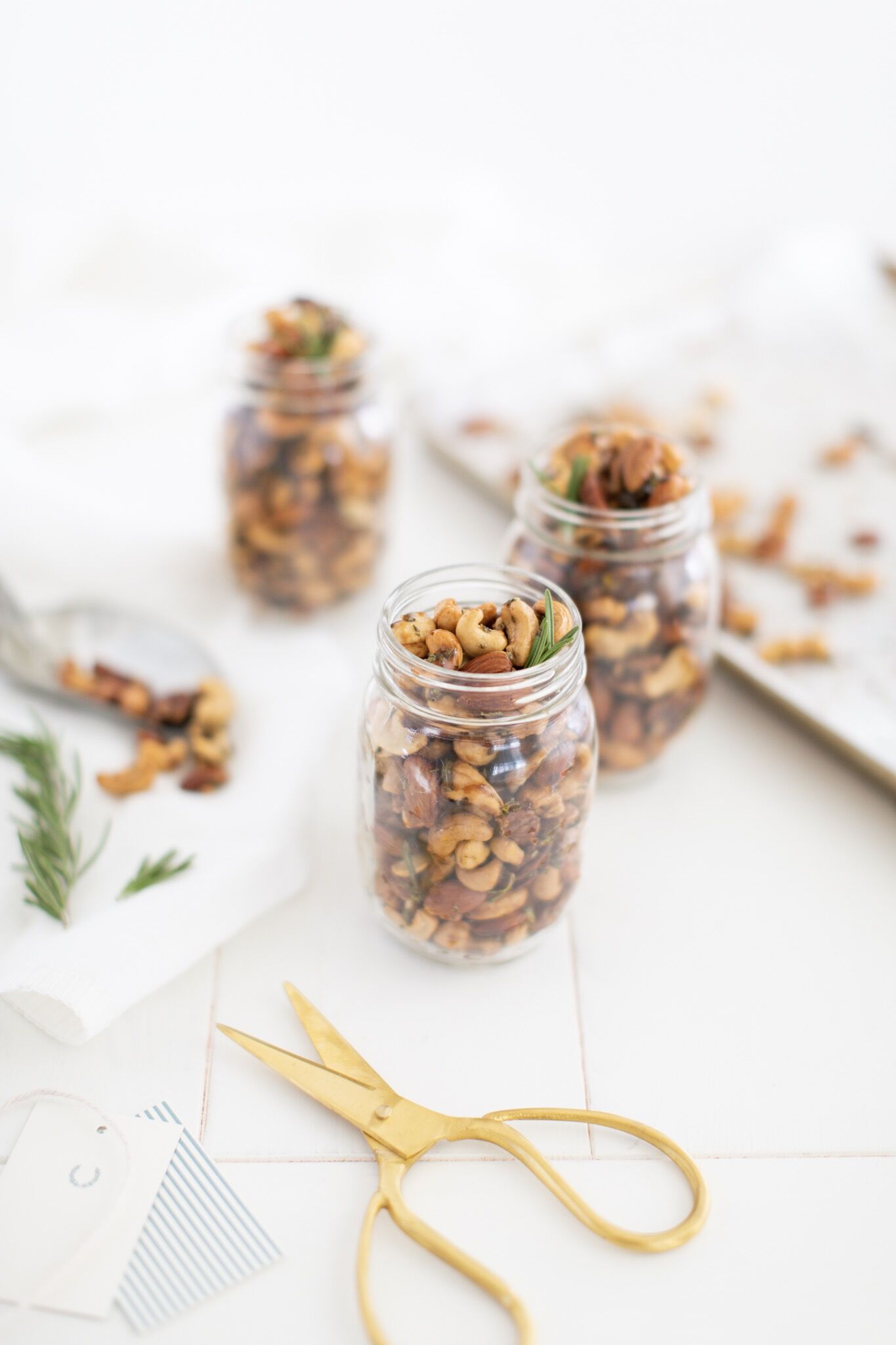 These nuts are completely addictive and are made from a few simple ingredients including maple syrup, butter (or vegan butter), and rosemary with one unexpected ingredient: tamari (you can alternately use soy).  The tamari adds a salty earthy flavour and that hint of 'umami' (the fifth category of taste along with sweet, salty, sourness, and bitterness).
I packed these nuts into jars and will be giving them away as hostess gifts all holiday season. They also make an incredible appetizer or afternoon snack. I'd maybe (scrap that – definitely) recommend making a double batch of these.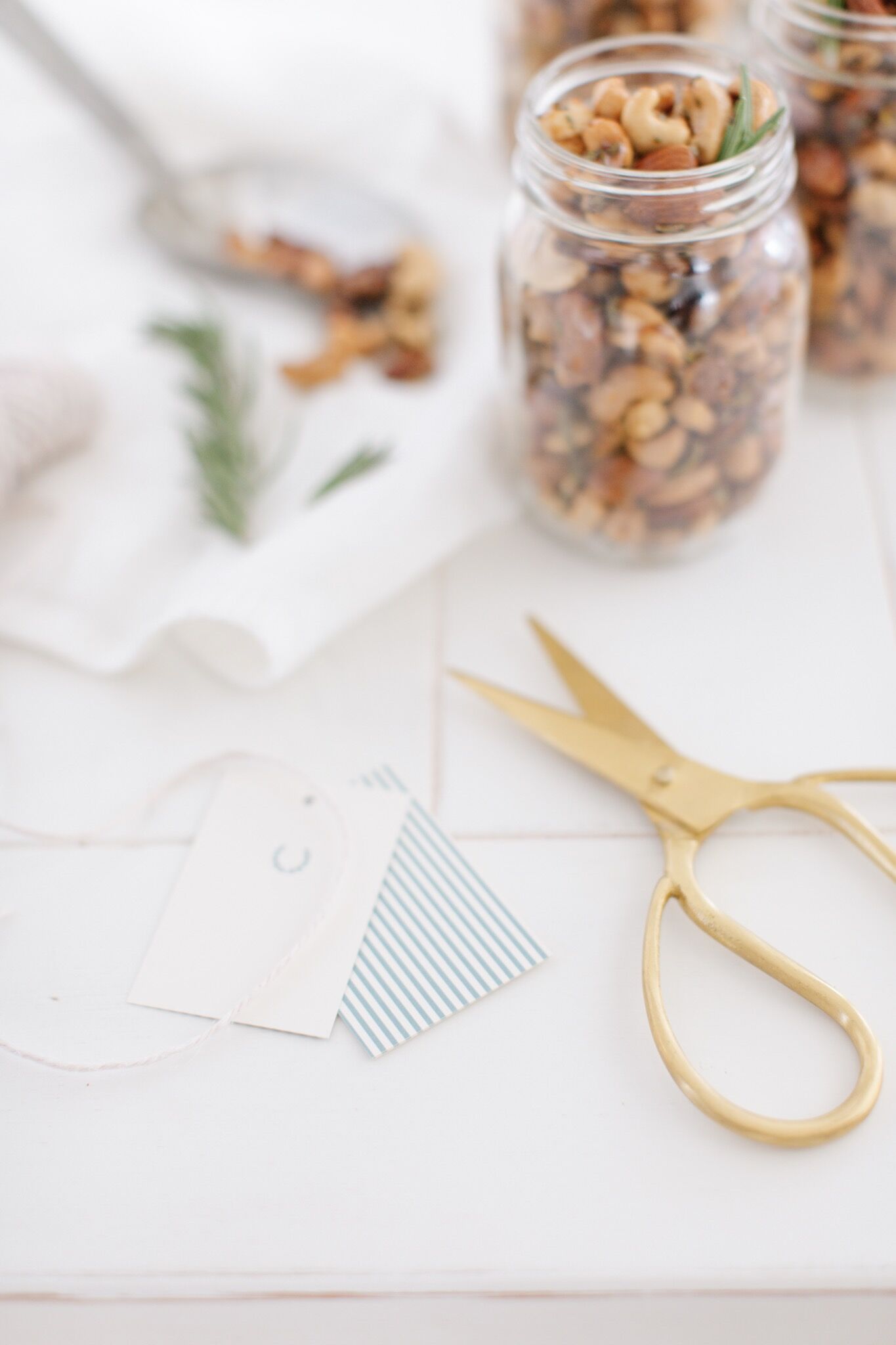 One thing to note; when you pull the nuts out of the oven they won't seem like they're done (the coating will still look syrup-like). You'll know it's time to pull them out when the coating is golden brown and bubbling away on your baking sheet.  They will take longer to bake if you double the recipe and are baking them on the same pan (see below).
The nuts will be soft when hot but as they cool, the coating will firm up and they will get crunchy. Make sure that you allow them to fully cool before placing them in jars to store them.
If you're looking for other holiday appetizer ideas check out these Cranberry Brie Hand Pies, this Creamy Cashew Cheese Spread (vegan) or the Sweet and Salty Nuts from our cookbook Fraiche Food, Full Hearts if you have it (shameless plug here, the book makes an awesome hostess gift or Christmas gift… you could even make a little jar of the nuts and wrap them together with the book a pretty bow!).
Rosemary Roasted Nuts
Rosemary Roasted Nuts
Sweet and salty, these rosemary nuts are the perfect holiday treat and make for the sweetest hostess gift in a little jar wrapped with ribbon! Bake them an extra 7-10 minutes if doubling the recipe on the same pan.
Ingredients
2

cups

assorted raw nuts*

(we used cashews, almonds, and pecans)

2

tablespoons

melted butter or vegan butter

2

tablespoons

maple syrup

1

teaspoon

tamari*

(or soy sauce)*

1

tablespoon

chopped fresh rosemary

sea salt to taste
Instructions
Preheat your oven to 350 degrees and line a baking sheet with parchment paper.

Combine all ingredients in a bowl and toss until nuts are evenly coated. Evenly spread the nuts out on your prepared baking sheet. Bake for 8-10 minutes or until the coating is golden brown and bubbling (the coating will harden after it cools).

Remove nuts from the oven and let cool completely before enjoying! You can store the nuts in a closed container for up to a month.
Recipe Notes
*use gluten free versions to make this gluten free, we recommend using roasted cashews here
If you try these Rosemary Roasted Nuts let me know in the comments below! I'd love to hear what other holiday recipes you're baking up this season!