Peaches – literally the perfect fruit. They're pretty, delicious, versatile and healthy. I've rounded up The Best Summer Peach Recipes that I recommend making to help make the most out of these warm summer days!
It's this time of year where I feel so blessed to live in the Okanagan where the weather is hot and fruit trees are heavy with ripe peaches. When one fruit season ends, another begins. It's one of the reasons I love Okanagan summers so much.
Our cherry tree is done for the year but my fridge is full of a new summer treat… peaches! Peaches seem to have an endless number of uses, from sweet to savoury they can do it all. Our peach tree is super young (we planted it last year); it will be the first year we have peaches from it! They're a bit on the small side but Max has been using it as his personal source of snacks and hasn't complained (he eats them still on the tree, pretty cute).
If you're able to get your hands on local peaches, here are a few recipes that I am head over heels in love with!
Summer Peach Recipes
These fruity Peach Raspberry Muffins are loaded with fresh seasonal peaches and juicy raspberries and a little hint of lemon. Perfect for breakfast, lunch or snack time.
You can now make your favourite happy hour drink at HOME. You heard me! We've created such a great recipe for a true Okanagan Peach Bellini!
Such a simple but stunning appetizer, I just love this crostini drizzled with fresh local honey.
These scones make the perfect afternoon snack to enjoy under the sun with a tall glass of iced tea! They're perfectly sweet and easier to make than you may think!
This Peach Cherry Salsa is not only gorgeous but the perfect combination of sweet and savoury. Serve it with your favourite tortilla chips for a snack or appetizer or on top of grilled fish for a beautiful dinner recipe.
An absolute showstopper, this salad can serve the whole family. I love meal salads and this has to be one of my favourites of all time. We used peaches in the salad AND in the dressing, it's truly SO GOOD. Skip the spice if you want of course.
I saw this Pretty Peach Tart on Jill's site and just had to include it here. As a bonus, it's also gluten free so perfect to make for guests with a gluten intolerance. How GORGEOUS is it!?
If you're feeling a like a boozy treat, these Spiked Peach Hibiscus Popsicles are sure to hit the spot for a refreshing dessert. They're made with Peach Schnapps which pairs perfectly with some ice tea and fresh peaches.
This may be my favourite one on here because even when it's not peach season you can make this with frozen peaches!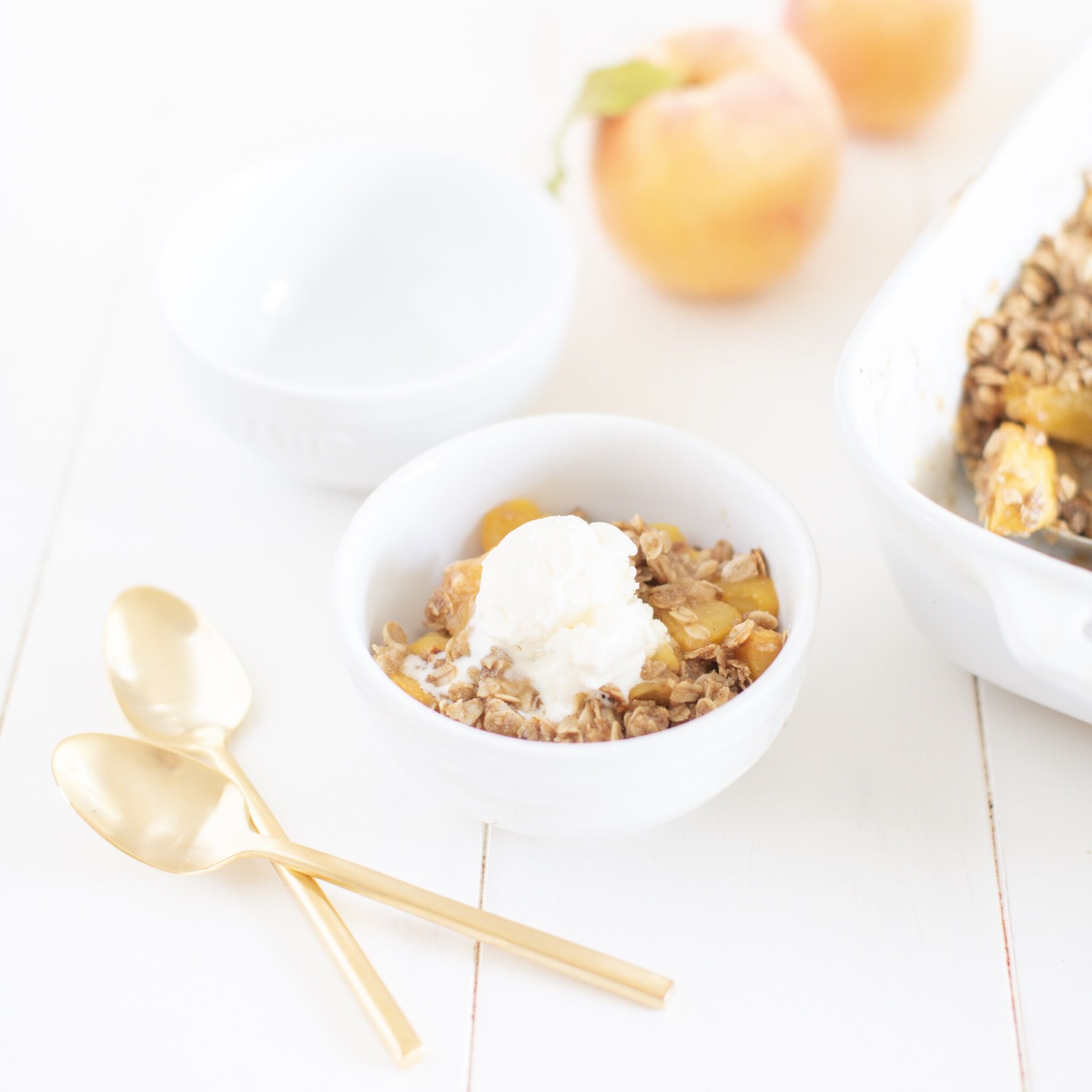 When a boatload of local peaches landed in my kitchen, making homemade canned peaches (with a vanilla bourbon twist) seemed like the right thing to do. Here's how we did it along with some good resources for canning if that's your jam… haha, get it? (so bad, I know).