As a new mom of two boys, I now 'get it'.  I finally understand what my friends were saying when they told me that having one kid is like having a pet, but two is like having a zoo. I could write a whole post about this new experience of being pulled in opposite directions but I won't digress; I'm really here to talk about dinner.
Dinner: that dreaded meal that can make a grown woman cry trying to think about what to make. Quick, healthy simple meal ideas are a must in my house, maybe you can relate?
Enter online shopping for ingredients. Online shopping, especially once you have children, simply makes life easier. And food is hardly an exception. We LOVE to eat fish (Charlie's favorite food is salmon), but finding fresh fish is nearly impossible and usually requires a separate stop, which is the LAST thing I want to do when I'm packing around my two month old!
I've discovered an amazing source for fresh Oceanwise fish ('fresh frozen' to be precise: it's processed and flash frozen immediately after it is caught, ensuring that you get the freshest fish possible, as though you bought it straight off of the boat). The best part is that it is delivered to my door perfectly frozen in pre-portioned packages, making meal prep a breeze. I simply pull out as many portions as we need the night before and put them in the fridge (or on those days when I haven't planned well, fish thaws so quickly in a sink of cool water).  We all know that fish is healthy for us, and this delivery service from Haida Wild makes it so much easier for me to include it in our weekly meals (you can order online here, it's SO simple)!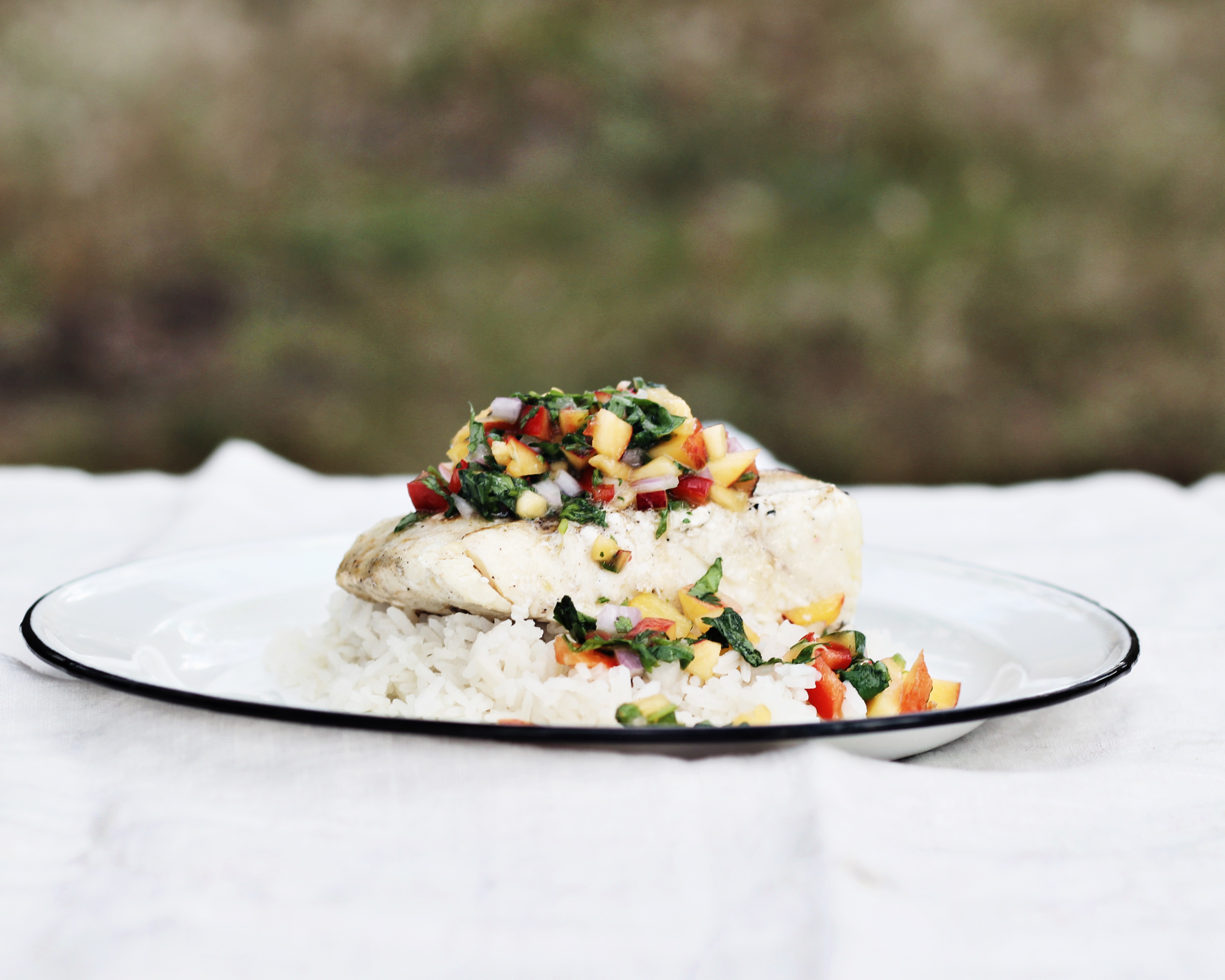 This halibut recipe is fresh and simple but is so impressive! It is a perfect one to have on hand for a dinner party; it's a breeze to throw together and looks beautiful. You can easily substitute peaches, plums or nectarines for the mango depending on what is fresh or on-hand.  I used peaches (also pictured here) when they were falling off the trees in Kelowna and it was delicious! Lose the jalapeño if your company (or kids) don't like the heat of course.
Halibut with Mango Salsa & Coconut Rice
Ingredients
Mango (or other fruit) Salsa:
1 ½

cup

diced peeled mango

½

red pepper

finely diced

1

clove

garlic

crushed

¾

cup

chopped cilantro

½

seeded jalapeno

finely diced (optional)

¼

cup

finely diced red onion

juice of 1 lime

1

tablespoon

olive oil

½

teaspoon

sea salt
Coconut Rice:
2

cup

jasmine rice

1

cup

coconut milk

1 1/2

cup

water

1/2

teaspoon

salt
Halibut:
4

filets

halibut

3

tablespoon

olive oil

salt and pepper to taste
Instructions
Mango Salsa
Mix all of the ingredients together in a bowl and set aside.
Coconut Rice
Stir all of the ingredients together in a medium heavy-bottomed pot and bring to a boil. Cover the pot with the lid, turn the heat to low and cook for 25 minutes.
Halibut
Rub your halibut with olive oil and season the filets with salt and pepper. Grill the fish on each side for 3-4 minutes or until done, depending on the thickness. Serve the fish immediately on top of the rice along with a generous scoop of the salsa.