Home-baked goods make the best snacks, breakfasts or dessert. Sure, you could run to the store and get a package of muffins… but why when you can whip something up at home that is guaranteed to taste better: and better for you! When the urge strikes, turn to this list of 15 Healthier Baking Recipes to satisfy that craving in a more wholesome way!
Healthier Baking Recipes
As a busy mom and Dietitian, I love taking a recipe that I grew up loving and giving it a healthier spin without compromising taste (there's a fine line and I've crossed it many times while experimenting with recipes). It feels extra good diving into that morning loaf, muffins or cookie (yes, cookies!) knowing every ingredient that has gone into it. I hope you enjoy these healthier baking recipes as much as our family does!
One of my top recipes for a reason! These cookies are nut-free, gluten-free, vegan, are packed with veggies for moisture and nutrition… and taste amazing! Cookies for breakfast or lunch? Yes please.
Savoury muffins are so underrated. We all know how hard it is to get your kids to eat their veggies (ok, and some adults…). These veggie muffins are a tasty way to sneak them in and can be frozen for an easy quick addition to lunches! Paired with a bowl of soup, they really define next-level comfort food.
Never thought you would see "double chocolate" in a healthier recipe roundup, did you?! This recipe is healthier than a lot of other old-fashioned recipes I grew up on, and doesn't require any fancy ingredients or equipment! I added shredded zucchini for moisture and hemp hearts as an extra nutrition punch: they are packed full of omega-3 fats, protein and fibre. You can make this recipe into muffins too and they freeze beautifully!
This recipe is from our Fraîche Table meal plan, and is just one of thousands of healthy dishes you get as a meal plan member. It is the perfect breakfast or snack and pairs great with some fresh fruit and Greek yogurt. If you are new to Fraîche Table, join now and use code HELLO2023 for 30% off of a 3 month membership.
These healthy Breakfast Power Cookies (that also happen to be vegan) are the perfect solution to those so-busy-I-might-just-skip-breakfast type or mornings. Filled with nuts, seeds, dried fruit, coconut and whole grain oats, these are hearty, nourishing, and delicious!
These Healthier Date Bars are a less indulgent take on the traditional date bar we all love. The perfect wholesome homemade snack, packed with simple and nutrient rich ingredients. The base of this bar is oats which are really rich in fibre (specifically heart-healthy beta-glucan) and dates are one of my favourite naturally sweet fruits to use loaded with fibre and potassium. I also added hemp hearts which add a mild nutty flavour and are a good source of healthy plant-based omega-3 fats and protein.
Why are they called "sneaky"? Because they have sneaky shredded veggies inside! These muffins aren't too sweet, have plenty of fibre in them, use extra virgin olive oil (my favourite oil), have hidden vegetables (hello vitamins, fibre and antioxidants) and freeze beautifully.
Brownies! Did you hear me?! Healthier brownies! These delicious fudgy (flourless) Coconut Black Bean Brownies are gluten-free with a vegan option! The black beans give these so much fibre and they are whipped up easily in a blender.
These muffins are packed with goodness and healthy fats thanks to the hemp hearts and olive oil, and are lightly sweetened with honey. They have been a favourite of mine (and many others) for years for a reason!
Homemade granola bars is a great way to healthify your kids lunches. These are totally nut-free and loaded with fibre, healthy fats, plant protein, dried apples, and are whipped up in a food processor in 2 minutes!
I love adding pears into my baking as they add so much moisture, don't need to be peeled, and are a great source of fibre… something we could all use more of.
I think it's safe to say we all know about the infamous Costco muffins! I felt it was my duty to create a healthier homemade dupe. I added honey to both sweeten them and add moisture!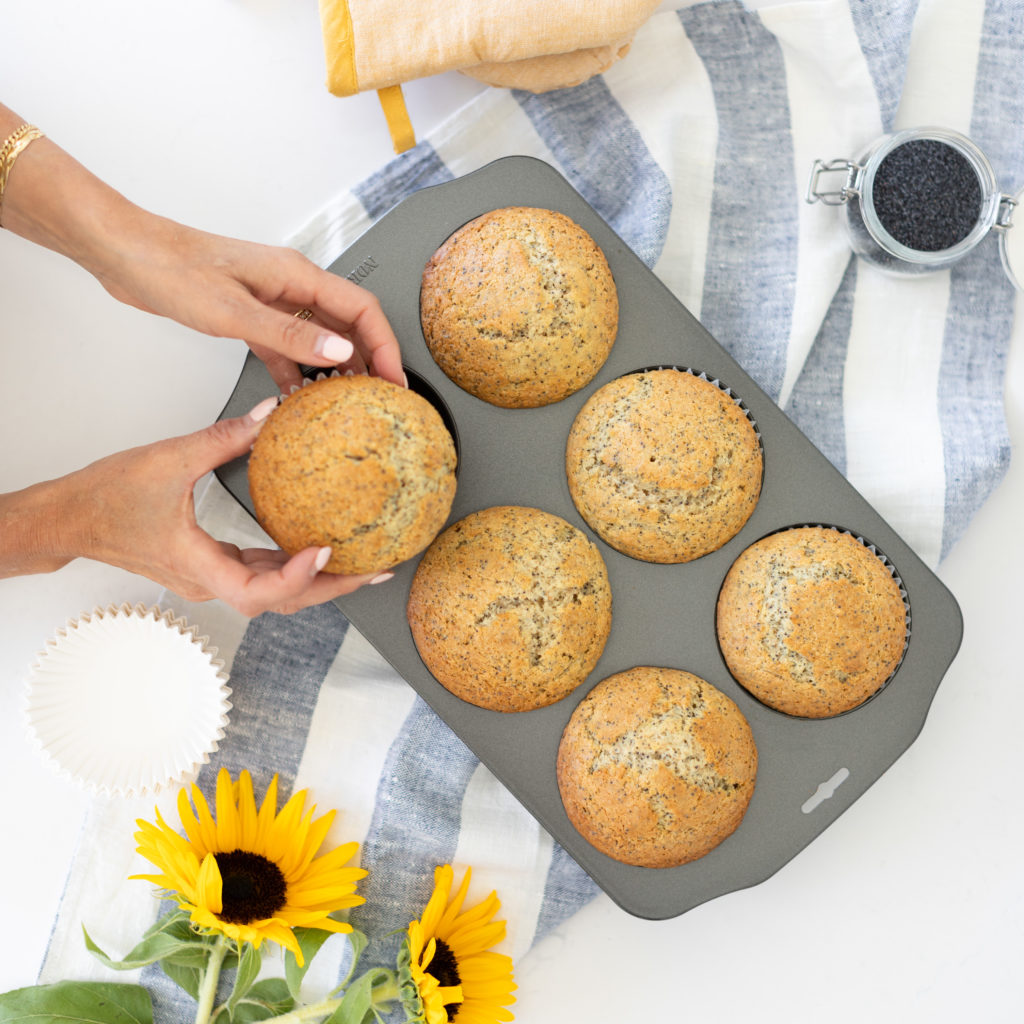 Oats are widely regarded as one of the healthiest grains you can eat, and oat bran specifically is a great source of soluble fibre! They are packed with many important vitamins, minerals, and fibre, including heart-healthy soluble fibre. You can even substitute half of the all-purpose flour with whole wheat flour if you wish.
This is such a tasty breakfast, you could almost enjoy it as a dessert with a dollop of ice cream! They are perfectly tart, with a crumbly oat crust full of almonds and healthy hemp hearts. This is another recipe from the Fraîche Table meal plan!
Blueberries are packed with antioxidants, and these muffins are full of them! The addition of some honey and an extra egg makes them moist with a nice hit of lemon, courtesy of the zest. These lemon blueberry oat bran muffins are the perfect healthy snack that the whole family could enjoy, either for breakfast or to pack as treat on the go.