Meet my Costco Poppyseed Muffin dupe! You can now make these iconic muffins at home.
These muffins make a great breakfast or snack and also freeze really well. Consider adding them into your baking routine! Make an extra batch and pop it in the freezer for your future enjoyment.
I think it's safe to say we all know about the infamous Costco muffins (I grew up eating them): so nostalgic. My two favourites were always the poppyseed and the double chocolate, and as a somewhat muffin expert myself, I felt it was my duty to create a healthier homemade dupe.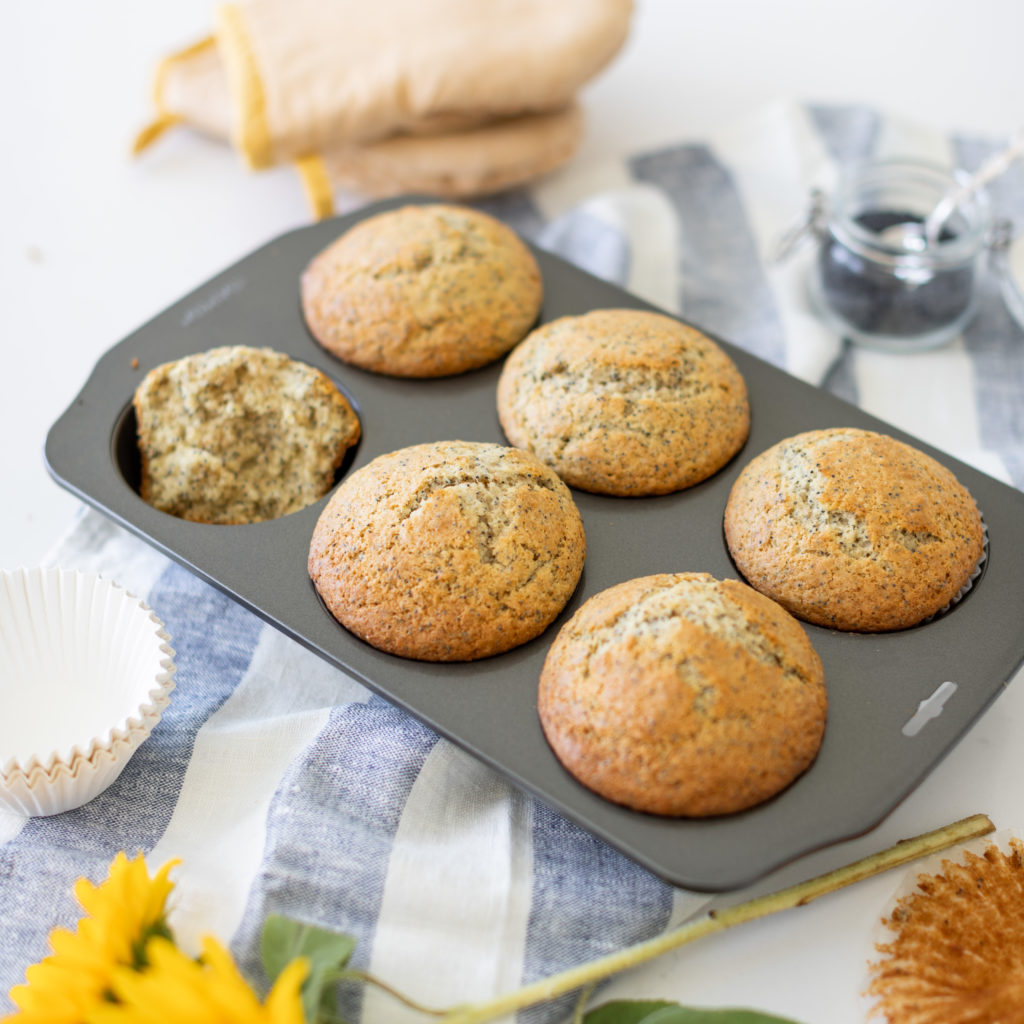 Chocolate Costco Muffins
A Costco Muffin recipe wouldn't be complete without some chocolate love. Anyone else think the Costco chocolate muffins are basically double chocolate cake?!
I used my infamous Chocolate Zucchini Bread recipe (baked as muffins) and in my larger muffin tins like Costco does it. Honestly, you could swap these out in your pantry or freezer (muffins freeze SUPER well) and no one would know. Feel extra good knowing they are loaded with healthy zucchini!
How to Make Costco Muffins
It took a little trial and error, but I think I nailed it! The key to the flavour we all know and love in these muffins is definitely the almond extract: I added honey to sweeten them and add moisture. Now the #1 trick to mastering the Costco muffin is the size! Grab yourself a large muffin tin and some large muffin liners!
I am a big muffin fan, so take a browse through my other recipes here!
If you make this recipe, be sure to tag me on Instagram with the hashtag #fraicheliving and leave a comment/rating below. I would love to know how you liked it!
xo Tori
Costco Poppyseed Muffins
Costco Poppyseed Muffins
Ingredients
2

eggs

⅔

cup

oil

1/2

cup

milk

1/4

cup

honey

1

teaspoon

vanilla extract

2

teaspoons

almond extract

1 ¾

cup

all-purpose flour

½

cup

sugar

2

tablespoons

poppyseeds

1

teaspoon

baking powder

1/2

teaspoon

baking soda

1/4

teaspoon

salt
Instructions
Preheat the oven to 350 F and grease or line large muffin tins with paper liners. In a medium bowl whisk together the eggs. Add the oil, milk, honey, almond extract and vanilla and mix to combine.

In a separate large bowl whisk together the flour, sugar, poppyseeds, baking powder, baking soda and salt. Add the wet ingredients to the dry ingredients and mix together just to combine.

Divide the batter into the muffin tins, filling ¾ of the way, and bake for 20-25 minutes, until golden brown and a toothpick inserted into the centre comes out clean (do not over bake). Cool on a cooling rack and store in an airtight container at room temperature for up to 4 days or in the freezer for up to 1 month.