Easter holds a special place in my heart. The flowers, the spring-inspired menu, and all the pastel colours have me weak in the knees! I'm sharing my complete Easter Dinner Menu as inspiration for you here, so that you can have all the joy minus the stress when entertaining so that you can enjoy what matters most (ahem, chocolate … right!?)
Easter was a BIG DEAL when we were growing up. My cousins, my brother and I still talk about the epic Easter egg hunts our parents would put together for us that included a witty scavenger hunt filled with rhyming clues that would lead us ALL over the yard scratching our heads (they were tough!) and eventually to the loot (which was pretty impressive for the record, one of the benefits of growing up in the 80's with fewer food 'rules').
Fast forward to today, and we have our own homes … and our own kids to spoil (with buckets of love, of course)! Someone tell me, how did that happen so fast? I still feel like I should be back-combing my bangs and sliding on my gel shoes. But I digress.
Easter dinner was always quite predictable and old-fashioned in our family: the typical ham, mashed potatoes, corn, carrots etc… you get the picture. And while I have zero complaints about traditional meals, I wanted to do something different in the way of an Easter menu this year to give inspiration for entertaining with all of those amazing spring ingredients in a fresh new way.
From buckets of spring flowers to pastel plates and the most adorable and simple bunny napkins, we've included it all here along with a printable grocery list, wine pairings, a work-back schedule and a few outfit ideas if you're looking for last minute inspiration. A bit of planning goes a long way in the entertaining department, and if you're new to entertaining, you'll find that the more you do it the easier it gets.
My favourite part about spring has to be the flowers. And the fact that my toes start to thaw lol. I have been lucky enough to get to know the lovely ladies at Byland's in Kelowna who supplied these gorgeous flowers, and I seriously couldn't stop staring at them.
Easter Flowers
I thought it would be helpful for me to provide you with a flower guide so that you could figure out which ones are YOUR favourites and spoil yourself and your guests this Easter. I used a bunch of different vintage milk glass vases (from thrift stores) along with a sweet milk glass pitcher for my centre pieces, and loved how they were perfectly un-matched.
Starting from left to right:
pink hyacinth
ranunculus
white freesia
garden rose (this is a Juliette rose)
ranunculus (again… obsessed!)
anemone
pink freesia
parrot tulip
grape hyacinth
Setting the Easter Table
I feel that the secret to setting a great table lays in the art of layering. Different colours, tones and textures are key to creating an interesting, but un-cluttered, table setting. Here are a few of the pieces that I like to include:
placemats
plates for each an appetizer, salad, and main (the pastel ones were from Homesense)
white or pastel napkins
gold cutlery
multi-coloured egg cups (again, Homesense for the win)
wine glasses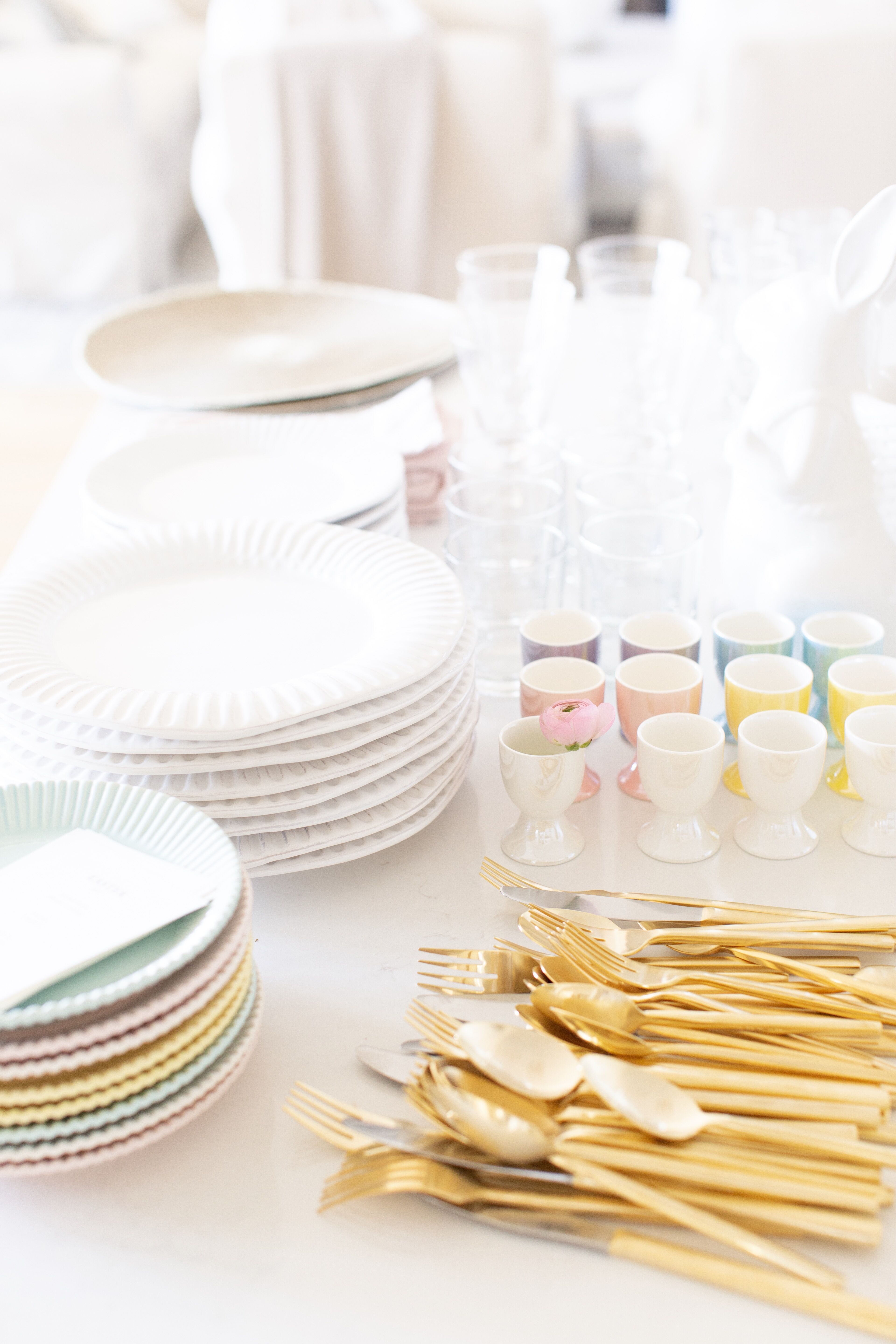 Easter Menu
The meal begins with a classic appetizer and a spring salad and citrus dressing following. The main dish as a light spring dinner is a seafood pasta and the meal is finished with a citrus ricotta bundt cake. Chefs kiss!
Download and print the Easter Menu HERE.
Appetizer: Classic Deviled Eggs
Wine Pairing: Prosecco or Sparkling
Salad: Spring Salad with Creamy Lemon Vinaigrette
Wine Pairing: Sandhill Rose
Entree: Seafood Linguine
Wine Pairing: Sandhill Chardonnay or Pinot Gris
Dessert: Sicilian Citrus Ricotta Bundt Cake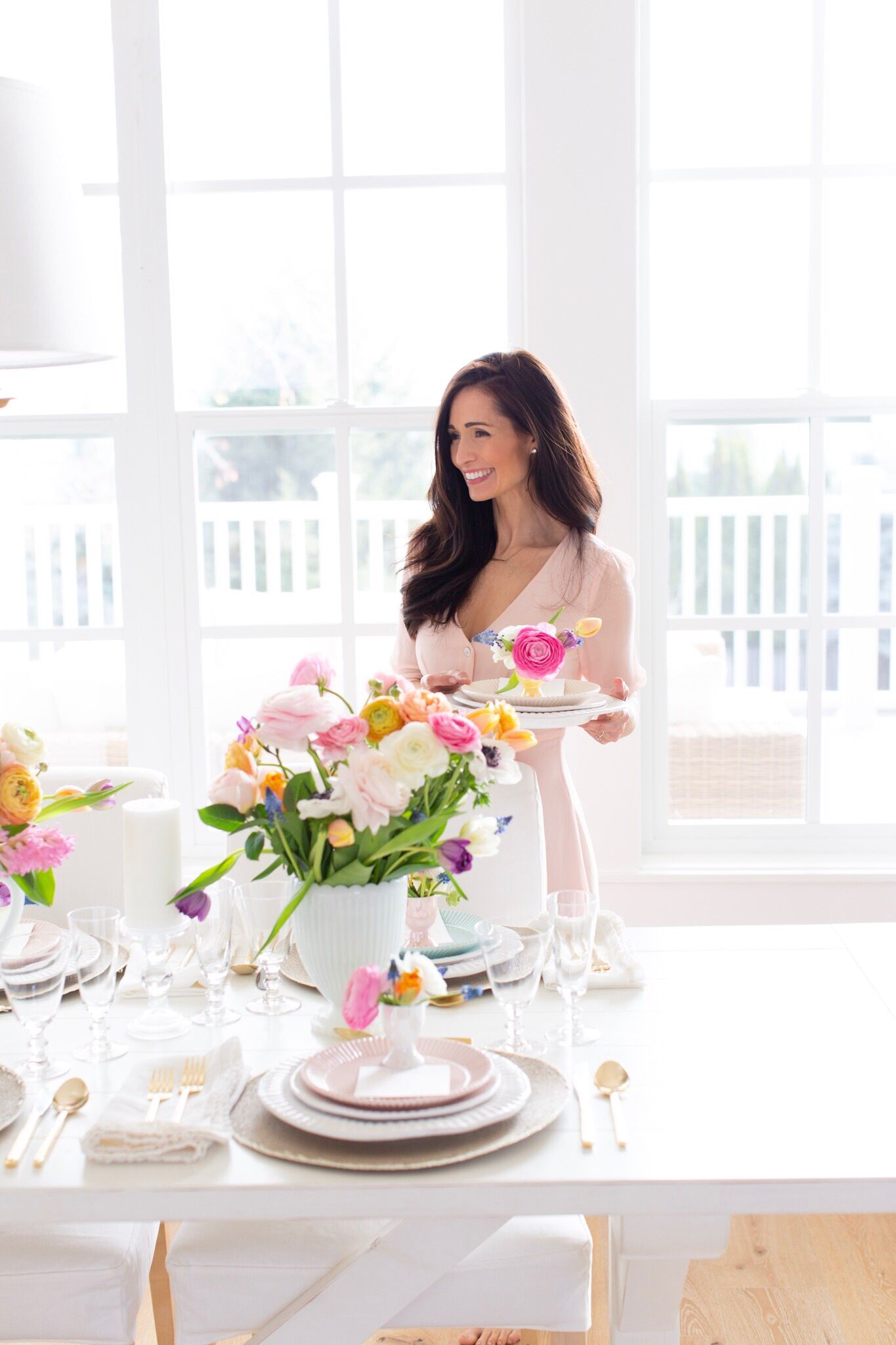 Easter Hostess Schedule
Two Days Before:
Buy flowers
Purchase wine
Grocery shopping
Iron linens
Make bunny napkins
Pick outfit!
One Day Before:
Make salad dressing and refrigerate
Thaw seafood (if using frozen)
Set table
The Day Of:
Morning:

Chill wine (whites and rose)
Bake Cake

Afternoon (one – two hours before guests arrive):

Prepare Deviled Eggs but keep filling and egg whites separate
Prepare salad (don't add the dressing)
Prep ingredients for seafood linguine (have them all ready to be cooked)

30 minutes before guests arrive

Complete Deviled Eggs and pipe in the filling to each egg white. Store in fridge until guests arrive
Light candles
Fill pot of salted water for pasta and bring to a boil, set seafood out on the counter to bring to room temperature, place all prepped pasta ingredients by cooking station

Guests Arrive:

Serve Deviled Eggs
Serve Salad with dressing
Cook and serve pasta
Serve cake with tea or coffee